Harper students and staff required to get Covid-19 vaccine
Last week Gov. J.B. Pritzker mandated Covid-19 vaccines for all higher education workers and students in response to the increasing cases in Illinois. The mandate will also require weekly testing for those who are "unwilling or unable" to get the vaccine, according to Executive Order 2021-20. 
In an all-campus letter, Harper President Dr. Avis Proctor stated that all healthcare students who provide direct patient care will be required to get their first dose of the vaccine by Sept. 1. Additionally, all students and staff attending class on campus are required to get their first dose by Sept. 5.
Students and staff must receive their second dose within 30 days of receiving the first dose. Pfizer and Moderna vaccinations are available for free on campus at the Northwest Community Healthcare Outpatient Center in Building M, which accepts walk-ins from 7 a.m.-4 p.m. Monday through Friday. Vaccines are available to everyone regardless of immigration status or whether or not one is insured. 
As a first step, faculty have been asked to take a two-question survey confirming their vaccination status. The survey indicates that documentation may be requested at any time to verify vaccination status, and the failure to do so "can result in disciplinary action."
"We are exploring a third-party vaccination and testing status management system to store vaccination/testing information and meet privacy, security and HIPAA compliance," Dr. Proctor stated in follow-up communication to staff and faculty.
Sophomore Allen North believes that the new vaccine mandate will help alleviate the number of precautions that need to be taken and aid in a return to normalcy. 
"The masks only help so much. I have issues breathing already," North said. " It's not severe breathing issues, but it is still breathing issues, and wearing masks for a long period of time does affect my breathing, and with everybody requiring the vaccine, it does get us one step closer to not having to wear the masks all the time."
Yet another student, Reem Aldhahiry, said the mandate is a violation of her constitutional rights and that getting the vaccine should be a personal decision.
"… if I live a healthy life, which I do, I should not be required or forced to put something in my body that I'm not convinced of," Aldhahiry explained. 
Regardless of belief, all Harper community members are expected to comply or be willing to get tested on a weekly basis, or else they will not be permitted to stay on campus. Students and staff can get free testing on campus through SHIELD Illinois.
To get a vaccine or to be tested at Harper, students and staff can call 847-618-0121 to make an appointment.
Leave a Comment
About the Contributor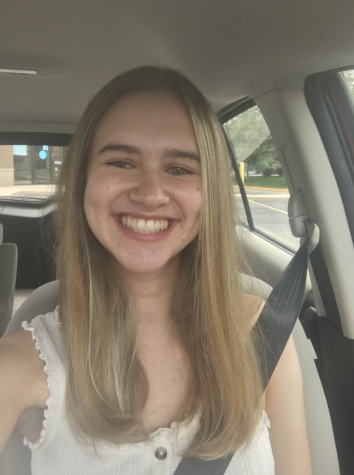 Adriana Briscoe, Editor-in-Chief
Adriana writes feature stories, news stories and editorials for The Harbinger.