Meet Harper's newish provost: Dr. MaryAnn Janosik
Last July, Dr. MaryAnn Janosik began her journey as Harper's new provost. As a provost, she oversees all of the aspects of the student experience, including academics, scheduling, student services, new programs and more.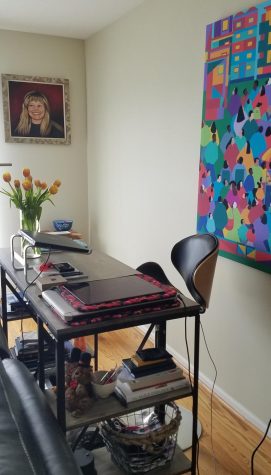 Now that campus has re-opened, you might find Dr. Janosik exploring Harper's hallways and meeting face-to-face with staff, faculty and students.
"I've got more to learn about the Harper campus and the culture,"  Dr. Janosik said. "But overall for me, it's been a good experience. It's been a positive experience, and I feel like I'm making my way in getting to know people even though a little bit differently."
As a provost, she hopes to both maintain and expand the quality of student programs and services. 
Additionally, she looks forward to helping with adding new programs. For instance, she already helped launch the drone certificate program and online mental health services, and she's working on bringing new programs in music technology and aviation. 
To get to know her better, The Harbinger sat down with Dr. Janosik for a must-know Q&A:
Q: What's your zodiac sign?
Dr. J:  I'm an Aquarius.
Q: Which musical artist, dead or alive, would you bring to campus for a concert?
Dr. J: Let's do a little bit of both, how's that? I'm a huge fan of Lady Gaga, so if we could bring Lady Gaga to campus that would be cool. Dead artists? I never got to see John Lennon in concert, so if I could bring John Lennon back, I think I would like to bring John Lennon back. 
Q: Who is your celebrity crush?
Dr. J: Many! My area of research is American history, and I focus on popular culture, so I've done a few things about film and music in my career [and] a few articles on that. Well, I've met two of my celebrity crushes, how's that? I met Rick Springfield, and I met Chris Isaak. And I have the photos to prove it. I think if there's a celebrity crush that I have that I will probably never meet, it's Brad Pitt.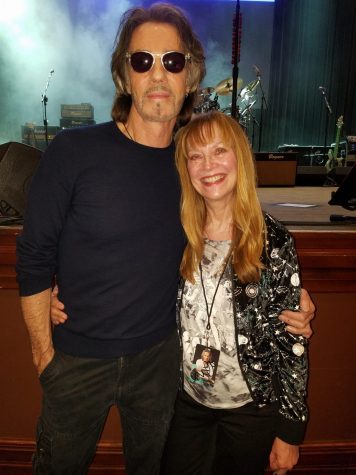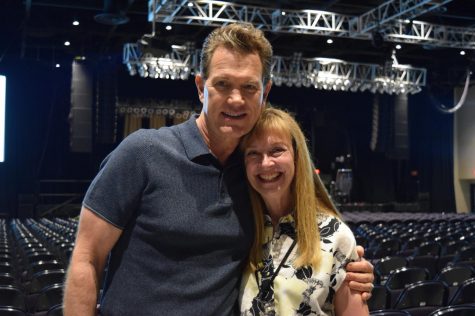 Q: Have you ever met a celebrity?
Dr. J: Actually, I've met a lot of celebrities, and I'll tell you why: I used to be the education director at the Rock & Roll Hall of Fame in Cleveland. So when I worked there, we had quite a few celebrities that would show up. They would either want to tour the museum, or once in a while they did a program for us in the education area, so I met everybody from Bon Jovi to Donny Osmond to some of the older rock and roll artists like Dionne and some of the others there, so I actually met a lot. Snoop Dog was another one that I met. I don't have any photos because if you worked at the Rock & Roll Hall of Fame, — and we had artists come to the museum — they wouldn't let you take a photo. They didn't want us to be fans, so we couldn't take photos. So I've met quite a few when they would come to the museum, and some of them were very nice, and others not so much, but overall it was a fun experience. I'd plan programs for K-12 in rock and roll, so we would have school groups come to the museum, and we would do a program for them, and once in a while, they would get lucky and they'd be there on a day when an artist was there, and they'd get to meet them. I say that because Snoop Dog was one of the nicest people I've ever met, and he was so great. We had a group of fifth and sixth graders at the museum when he happened to stop by, and he was really nice to them. He took his time with them. He went and talked to them, so he was really kind of cool. 
Q: Where's your most favorite place on earth?
Dr. J: My favorite place on earth where I visited is London. I love London. I would go back there in a minute. Anywhere in London. I loved it … I'm a baseball fan, and if you're from Cleveland, Ohio, the baseball stadium there used to be called the Jake. And so whenever I'm in Cleveland and we go to a baseball game, it just feels like home when I go there. 
Q: What do you like to do in your spare time or favorite hobby?
Dr. J: I don't know if I have what I would call a hobby. I like to read. I'm a film historian, so I like to go to movies and concerts — that's something I enjoy. I like to go to museums; that's fun for me. I used to run all the time. Now I do other kinds of fitness things — I teach a Zumba class for Harper. So I like to dance, and my husband and I like to travel. We like to try new restaurants. It's been a little bit not so much since Covid, so we're kind of looking forward to getting back to that. I'm kind of an artsy music and film person and theatre and that sort of thing, so that's what I enjoy.
Q: Where do you hope to travel someday?
Dr. J: There's a couple of places I'd like to see. My mother's family was from Croatia in Eastern Europe, and I understand it's quite beautiful, so someday I'd like to go to Croatia. And then my dad's family was from Czechoslovakia, so I've not been to either place yet — I'd like to see that. And I think someday I'd like to go to Australia. I've had friends that have gone to Australia, and they loved it, so maybe someday. 
Q: What's your favorite movie/TV show?
Dr. J: I have a lot of favorite films. "Out of Africa" is a favorite movie, but I also really love "Pulp Fiction." And probably "Annie Hall." Those three movies.
I don't watch a lot of TV shows, but I'm loving "The Crown" right now. I'm waiting for the next season of "The Crown," but I often watch old TV shows like "M*A*S*H," and "Sex and the City." I still find that they kind of hold up.
Q: What restaurant/franchise would you bring to campus?
Dr. J: Well, I don't really go to chain restaurants. I don't eat fast food. I know there's a Starbucks on campus, and a lot of people are really happy about Starbucks. I like to eat healthy but tasty food. There used to be a restaurant in Schaumburg called Sweet Tomatoes. It was kind of like fast food, but it was healthy, so maybe something like that would be kind of grab-it-and-go, but food that's good for you. 
Q: Do you have a secret talent?
Dr.  J: I'm a classically trained organist, so I play the keyboards, and I sing. So I've done that, I've played a lot of church music in my life so I've done a lot of … I've worked as a church organist and I've sung.
Q: What's your guilty pleasure?
Dr. J: I don't know if this counts as a guilty pleasure or not, but one of the most relaxing things I love to do is shop. I don't have to buy anything. I just sometimes like to wander in a store and look at things. I find that relaxing, and I find that's one of the things I haven't been able to do the way I normally do it the last year or so. So now I do the online thing … it's a little bit different, but I suppose that's my guilty pleasure.
Q: What's your Myers-Briggs personality type?
Dr. J: INTJ. And I will tell you that I've taken the test more than once because I've taken it at different places where I work, and … I think I'm an ambivert. Sometimes I come out as an extrovert, and sometimes I come out as an introvert. I'm always sort of on the border. So I've told people I'm actually an ANTJ. I'm an ambivert. I morph into one thing or another. I'm probably more of an introvert, so I think the "I" is probably a good indicator.
Q: If you could have any kind of superpower, what would it be?
Dr. J: If I had a superpower, it would be to end all of the awful diseases including things like racism in people. If I had a superpower, I would like to see a world that wasn't confined by prejudice and that wasn't hampered by disease. And then just let people live their lives with that kind of freedom. 
Q: What's your biggest pet peeve?
Dr. J: People who aren't prepared for things and then create unnecessary work for others. Like if somebody calls you for a meeting, and they're not ready for it … those little things to me are kind of sometimes annoying. 
Q: What's the best advice you've ever gotten?
Dr. J: Not take myself too seriously. I think one of my professors when I was in college, — I was a very serious student; I was a good student — and he said to me one time just always remember to smile and to laugh and not take yourself too seriously. And it was really good advice because I started thinking about what that meant, and if you ever have one of those moments where you feel like the sky opened and the clouds parted and [all] that, he just gave me a whole other perspective on how I see myself and how I navigate. And it's OK to make a mistake, and it's fine to laugh about it. And that was great advice for me because I take my work seriously, I take what I do seriously, but not myself, and I think that's a good distinction. 
Q: Is there anything you would want to tell Harper's students? Advice for them?
Dr. J: I don't like to give advice per se, but I talked to the graduates this week who were painting their mortarboards, and one of the things I like to share with students is that education is the one thing that nobody can take away from you — my dad told me that. You can make money and lose money and lose friendships and all of that and gain all kinds of experience, but the education is always there with you. So I think it's how you use it that's important. So I would always say that to students, think about not only what you've gotten in terms of finishing an education or completing a degree, but how are you going to take that out into the world and what good are you going to do with it? I think that's important. And another thing I always say is never give up on your dreams. I know that sounds kind of corny, but when we're at a certain age a lot of times we're very enthusiastic about things, and we're hopeful for the future, and then sometimes you run into those people ten years later, and life or other things have kind of beaten them down, and they've lost that spark. And I think that's a hard thing to keep going is to, after some life experience, to give up on things. But I think there's something with resiliency and hope that people really have to hold onto because they're necessary to get through life, and I think they're really important for people to have. 
Leave a Comment
About the Contributor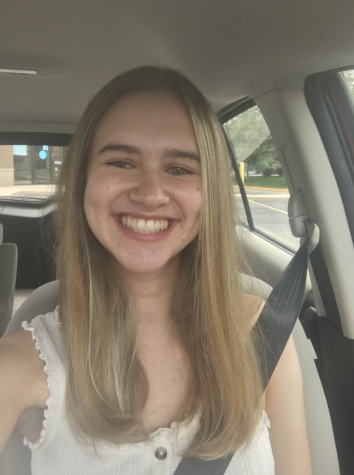 Adriana Briscoe, Editor-in-Chief
Adriana writes feature stories, news stories and editorials for The Harbinger.