Top 10 Ice Skating Destinations in the Chicagoland Area 2019-20
Whether you skate like Wayne Gretzky, or a newborn deer trying to use its legs for the first time, ice skating is one of the most exciting things to do during Chicago Winters. Ice skating can be a romantic date night, a family-friendly activity, or a fun night out with the group, so lace up your skates and let's get going!
But where do you go? How does one find some of the best places to skate in Chicagoland?
Well, I wouldn't consider myself an expert, but I'm no rookie when it comes to some of the best outdoor rinks in the area. I will leave the indoor rinks off the list because those are open year-round and can be visited anytime. The outdoor rinks are here once a year and are a lot more exciting due to their festive nature!
In fact, one of the best ODRs (Outdoor Rinks), in my opinion, is the rink I build right in my own backyard, but please, all of you, don't show up uninvited to my house.
I don't have enough rental skates or cups of hot chocolate for all of my neighbors, let alone the Harper community and the Chicagoland area!
The best public ODRs are up and running and the majority of them do have enough hot chocolate and skate rentals for everyone. Follow me down Santa Claus lane as we take a look at the top 10 skating rinks in the Chicagoland area!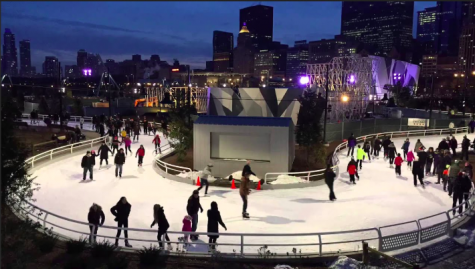 Maggie Daley Park Skating Ribbon
Maggie Daley Park, Chicago IL
Is it sacrilegious to make the best outdoor rink a ribbon? The Maggie Daley ribbon is only in its 6th season, but is still one of the most unique skating experiences in Chicago. The ice surface is laid out in a path rather than one big hockey rink like most places. The frozen river zips around the park to give you scenic views of the city skyline and majestic Lake Michigan. This can tend to be a more difficult rink due to the fact that it has uphill and downhill sections. I can imagine this also being a pain when having to do maintenance on the ice, but the professionals employed do a great job as the ice conditions are always great. This ribbon is free to skate on! Skate rental and lockers for personal items are also available for $13-$15. The Maggie Daley Ribbon is open every day from 12PM-8PM on weekdays and 10AM-10PM on Fridays, Saturdays, and Sundays. The Ribbon is even open for limited hours on Christmas Eve, Christmas Day, New Year's Eve, and New Year's Day. Maggie Daley is open until March 1st, but Christmas time in Chicago is always an excuse to also go skating here especially when the McCormick Tribune Ice Rink is in the same park!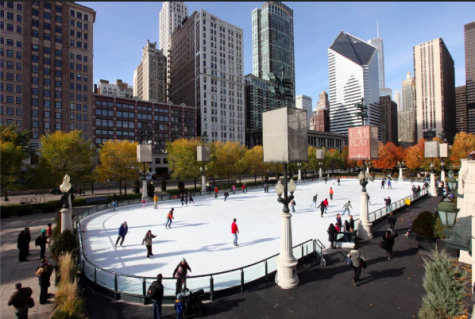 McCormick Tribune Ice Rink
Millennium Park, Chicago IL
You knew this would be next considering the Maggie Daley Ribbon was the first on the list. Right down the block from the ribbon is a more traditional ice rink known as the McCormick Tribune Ice Rink. This rink has been the premier ice-skating destination in Chicago since December 20th, 2001 when the rink was introduced as the first attraction in Millennium Park. The ice on this rink is maintained as well as the Maggie Daley Ribbon and is open during the same times through March 8th 2020. This rink is free for everyone as well. Skate rentals range from $13-$15. The best time to skate at this rink is in the evenings when you can see the breathtaking Chicago skyline as well as the Chicago Christmas Tree. The rink even offers free skating lessons at 11AM on Fridays and 9AM on Saturdays and Sundays.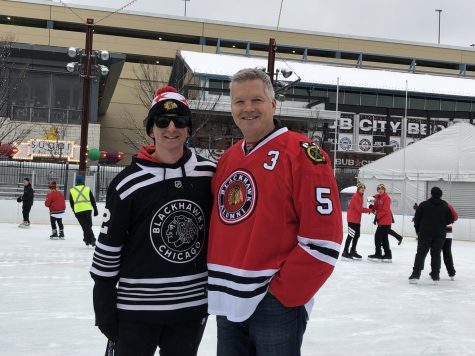 Parkway Bank Park
5501 Park Place Rosemont, IL 60018
Also known as Skating in the Park, the Chicago Wolves' ice rink at Parkway Bank Park (formerly MB Financial Park), is an ideal place to ice skate during these winter months. The Chicago Wolves AHL team has partnered with the Parkway Bank and the City of Rosemont to, once again, open their massive, NHL-sized, outdoor skating rink. The rink is built over a turf field in the middle of a park filled with plenty of exciting things to do and see such as Kings Bowling Alley, Sugar Factory, Zanies Comedy Club, and even iFly- an indoor skydiving experience. This is only the tip of the iceberg (get it, because this is an article about ice) when it comes to the entertainment in the area and the rink is located right in the heart of all of the fun. With their festive lights, music and nightlife, this is a rink that you won't want to miss out on. Although, you will have to hurry because this epic rink is only open until February 23rd! Skating in the Park is free for everyone just like the previous two rinks and skate rentals start at only $8. Ice Skating hours vary by date so you will have to check their website, but every Sunday in December, there is a character skate for kids from 9AM-11AM in which special guests such as Santa Claus and Mrs. Claus and Batman and Catwoman will be attending. The Chicago Wolves themselves will even be practicing at the rink from January 12th through February 23rd. During this time, open skate sessions will be open to the public from 4PM-9PM on Sundays only. At 3PM on Sunday, February 11th, they will also be hosting a free practice for the public followed by an open skate with the team. This will be the inaugural outdoor practice for the American Hockey League franchise in their 24-year history, so get to Rosemont's premier outdoor ice-skating rink before your chance melts away!
  The Arboretum
100 W Higgins Road South Barrington, IL 60010
One of the more well-known ice rinks in the Northwest Suburbs, but unheard of to many others is the Wickstrom Lincoln Ice Rink at the Arboretum of South Barrington. The rink is constructed in the open lot near the center of the Arboretum near a life-size statue of a deer. This is another rink that is made special by the entertainment around it. Not only is the Arboretum close by, but it also has a vibrant nightlife even in Winter months. There are tons of great places to eat and shop as well as a classier style movie theater that has a full bar and restaurant area complete with a pool table! The rink itself is open for public skates Monday-Friday from 4PM-9PM, Saturdays from 11AM-10PM, and Sundays from 11AM-8PM. This rink does charge $8 per person to skate and an extra $4 on top of that for skate rentals (rentals for children under 3-years-old are free). Santa makes a journey out to this rink as well, so be sure to catch him before Christmas Eve. The times for Santa skates vary by day so be sure to check the Arboretum Website for more information. You better grab your hat and mittens fast though, because this rink closes on January 20th, and you won't want to miss a skate on this extraordinary rink either!
  Sky Rink at the Peninsula
108 E Superior Street, Chicago, IL 60611
In all honesty, I have never been to this rink, but I plan on going this season because it sounds awesome and could possibly earn itself a few spots higher on my list! This rink is located on the deck of the Shanghai Terrace restaurant; four floors above Michigan Avenue. The rink overlooks the Chicago skyline just like the Millenium Park rinks, but this time you are elevated several stories up on the terrace of a hotel. This rink was the only hotel ice rink in Chicago when it debuted in November of 2012, and it remains the only hotel ice-skating rink today. This rink is 2,100 square feet hybrid ice rink meaning it is a mixture of natural freezing ice and artificial (mechanically frozen) ice. The rink is surrounded by Chicago's illuminating, high rising buildings as well as a winter wonderland of pine trees and snowflake lighting. In my opinion, the best part sounds like it isn't even the fact that you are skating on top of a building. The best part sounds like the Swiss chalet serving hot chocolate, holiday treats and Glühwein! I didn't even know what Glühwein was or even how to pronounce it, but apparently, it's a type of festive red wine. The Sky Rink costs $20 for adults and $10 for children (12 and under). The proceeds benefit Ann & Robert H. Lurie Children's Hospital of Chicago, and Hephzibah Children's Association. The Sky Rink's website does not have hours posted for the rink, so call ahead to confirm. Sounds like a good idea for date night fellas! *Wink wink*
  Xfinity Ice Skating Rink at Winter WonderFest
Navy Pier, Festival Hall
I know I said I wasn't going to do any indoor reviews, but this one is an exception because despite its indoor nature, this rink is only around for a limited time just like its outdoor counterparts. Also, Navy Pier is an iconic location in Chicago that is visited by multitudes of people each and every day. There are tons of shops, attractions, and even a movie theater. Sound familiar to other places that have ice rinks? That's because it is a perfect location to turn into an icy winter wonderland- or in this case: Winter WonderFest! The 170,000 square-foot Festival Hall will be filled with tons of activities for all ages, lots of festive decorations, a tubing hill, and one gigantic ice-skating rink. This rink would rank higher on the list because it is located at Navy Pier, but it is a fake ice-skating rink. For those of you who aren't familiar with what that entails, it is a rink that has only synthetic tiles rather than actual ice. These tiles are made out of Very-High Molecular Weight Polyethylene (VHMW-PE), or in layman's terms, a durable, slippery plastic. I have seen some of these rinks around Christmas time in warmer locations like Florida, and I was not immediately sold on the idea of skating on some linoleum tile. However, a lot of hockey companies have made enormous strides in the past decade to improve upon this material in an effort to give skating fans the ability to glide practically anywhere where you can place these tiles flat and clip them together. This rink gets points in my book for its unique, non-ice style, but I am sure many would agree with me that genuine ice is still preferred over Synthetic HockeyShot Tiles. Navy Pier's Winter WonderFest is open from December 6th through January 12th. Tickets are $20-$28 for adults and discounted at $10-$14 for kids and senior citizens. Hours of operation vary daily, so check out their website before you walk into the Winter WonderFest.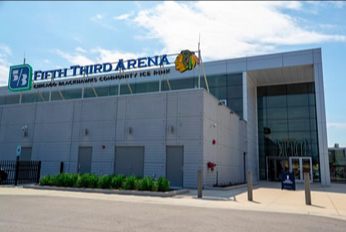 Fifth Third Arena
1801 W Jackson Blvd, Chicago, IL  60612
Ok, ok, I promise that this is the last indoor rink review that I plan on doing, but this one just had to make the list. After all, this is the practice facility of THE Chicago Blackhawks, and you can skate on the same ice that the NHL players practice on. The facility is about a block away from the United Center and is practically brand new. There are two ice surfaces that are maintained beautifully for the many amateur hockey leagues and NHL practices that the arena hosts. One of the coolest things about this facility is the fact that the Blackhawks host practices that are open to the public during the season. These practices occur on non-game days and are typically in the morning when the Blackhawks aren't on the road. There are no autograph sessions allowed before, during or after the practice, but those of us die-hard fans are just there to get up close with our players and watch them run through the various drills and scrimmages with NHL caliber skill. The practice schedule is posted monthly on the Blackhawks website and the Fifth Third Arena website. The schedule is subject to change, so always check the website the night before and the morning of the practice for any changes or cancelations. Fifth Third Arena also hosts open skates for the public, and many of them are centered around upcoming holidays or Blackhawk events. These skates are a lot of fun for families and Hawks fans alike. Often times there are giveaways and prizes before the skate sessions, so get there early. Public skates are $10 per person per skate and an extra $5 for skate rentals. They do offer public skate passes for $60 which are good for 10 skate sessions and skate rental punch passes for $30 which are valid for 10 skate rentals. The schedule for these is also on the Blackhawks website. Another reason to get to Fifth Third early is to get the free parking in their lot and also enjoy the many amenities the arena has to offer. There is a full bar, a concession stand, and even a Dunkin Donuts. This rink facility might be open year-round, but the best time to go is during the hockey season!
  The Rink at Gallagher Way
Gallagher Way, Wrigleyville
As a White Sox fan, you won't catch me at this rink or this neighborhood, but I have to admit that it is a nice setup for a rink. The rink adjacent to the historic park is a great way to use the stadium during the offseason. The Blackhawks probably won't be playing another Winter Classic out on Wrigley Field, so this rink is the closest that Wrigleyville will get to an NHL-sized rink. The 8,000-square-foot rink is located in the middle of Wrigleyville's Winterland event. Winterland includes numerous holiday activities for families and couples including holiday movie screenings and an outpost for the cherished Chicago Christmas event: The Christkindlmarket. Skating times vary, so be sure to check their website for availability and what times Santa will be there. You can buy tickets to this event on their website as well; tickets are $6 for anyone 13-years-old and older and an extra $12 for skate rentals. The rink will be operating until February 16th, but you'd better hurry, because if this rink is anything like the Cubs, it might not be back for another 108 years!
  Brookfield Zoo Rink
Brookfield Zoo
Who doesn't love zoo lights at Christmas time? Well you can have your zoo lights, and ice skate too! The Chicago Wolves have teamed up with Chicago Zoological Society to create a truly fascinating work of art. The rink at Brookfield Zoo is an energy-efficient rink constructed out of heat-pressed layers of polymers. Thus, there is no ice involved, but it is still quite the skate! The rink is open from 12PM-4:30PM everyday through January and is only $7 extra to zoo-goers ($12 extra with skate rental) . Be sure to look out for special appearances from Chicago Wolves mascot Skates! Mesmerizing animals, futuristic ice skating, and illuminating Christmas lights! What more could you ask for?
Midway Plaisance Park
1130 Midway Plaisance North, Chicago
Located "Midway" between Jackson and Washington Park, this park has quite the history itself. Midway Plaisance Park was home to an amusement park during the Columbian Exposition of 1893. The park still features a "Fountain of Time" stone statue depicting Father Time standing over a reflecting pool. Now, it is home to walkers, joggers, and bikers, but in the winter, the park belongs to the skaters. The park is open from 6AM-11PM every day and is free for everyone. The only drawback is that there are no skate rentals, but there are pond hockey sessions on Saturdays and Sundays, and open skate throughout the week!
If you need any more information about these rinks, feel free to check the links below. Happy skating!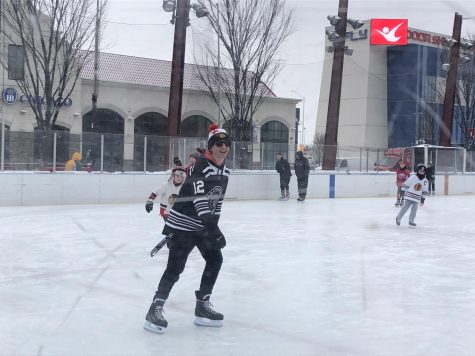 Leave a Comment
About the Contributor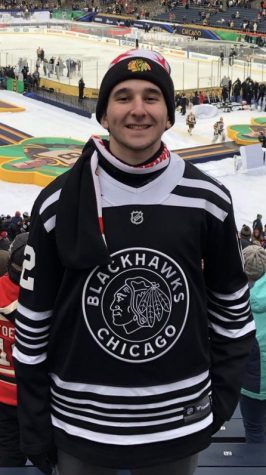 Mike Napoletano, Sports Reporter
Mike is studying Business and Communications. His superpower of choice would be to have Advanced Intelligence.