Latinx Heritage
The Harbinger is celebrating Hispanic Heritage Month! Hispanic Heritage Month honors the Latinx communities and their contributions while educating and highlighting the traditions, diversity, and culture within the large Latinx umbrella. 
Harper College's Latinos Unidos had a month full of festivities  planned for Hispanic Heritage Month which runs from September 15th to October 15th. 
"We're one big community and Latinos Unidos is a place where Latinx students can come together," said Emily Ibarra, Latinos Unidos Ambassador. "The food and the art are big parts of our cultures, it's something anyone can enjoy and appreciate."   
As the month wraps up, The Harbinger's Roxana Machuca asked members of Latinos Unidos to chime in on their cultural 'favorites,' and local Latinx businesses that feed our foodie souls.
Favorites In Harper's Neighborhood
Palatine offers a variety of Latinx restaurants and bakeries often referred to as 
Panaderias (sweet bread bakeries).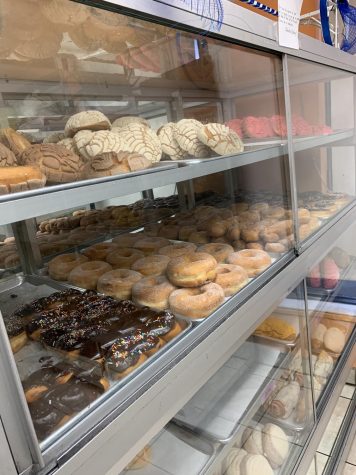 Sweet breads are a traditional baked good that serve as a sweet treat to accompany a cup of coffee, milk, or hot chocolate  
"I can never get tired of eating a concha with a cup of Abuelita Hot Chocolate. Especially in the fall and winter when it's cold out," said Harper student Valerie Lindsey.
Best Panaderias.
El Chicanito 
Address: 1164 Dundee Rd, Palatine, IL 60074
Alondra Bakery
Address: 1629 N Baldwin Rd, Palatine, IL 60074
La Flor De Izucar Bakery
Address: 2204 W Algonquin Rd, Rolling Meadows, IL 60008
Estrella Bakery
Address: 1077 N Salem Dr, Schaumburg, IL 60194
Best Taquerias 
Taquerias are street vendors and store fronts that sell a variety of tacos.
Taco Shop
Address: 809 N Quentin Rd, Palatine, IL 60067
Mexico Uno
Address: 15 N Brockway St, Palatine, IL 60067
Taqueria Maya
Address: 1516 W Algonquin Rd, Palatine, IL 60067
Tacos El Norte
Address: 1324 N Rand Rd, Palatine, IL 60074
Best Palettas.
There's nothing like "beating the heat" with a popsicle, or paletta, made from real ingredients. These homemade treats made with localized real ingredients come in a variety of flavors that can range from tart and fruity to sweet. These classic flavors are a must try for any foodie.
Mango con chile (mango with chili)
Eskimal (chocolate covered coconut)
Fresas con crema (strawberries and cream)
Limón (lime)
Nuez (pecan)
All of these are available at La Michocana, which is a street food franchise found all over the northwest suburbs. 
Comfort Foods you need to try. 
Abuelas, or grandmas, and mothers in many Latin cultures are key in passing on traditional dishes. These traditional dishes from the Latinx communities do not fail to show up at family gatherings and other special occasions. 
Pozole – Mexico
A soup made with a chili broth, hominy, and pork. The soup base can be topped to your liking, with a variety of toppings to choose from like: lettuce, radish, lime, cilantro, etc. 
Empanadas – Argentina
This pie-like pastry, originating in Argentina, can be baked or fried and comes with sweet or savory flavors.
Tostones – Puerto Rico
Twice-fried plantains that accompany rice and beans, can be dipped or eaten all on their own. 
Arepas – Venezuela
A soft flatbread toasted on a griddle, customizable with the fillings. From a few slabs of butter to eat as a breakfast to a hamburger styled lunch. 
Leave a Comment