Harper women's cross-country team wins their fourth national title
In his first year coaching women's cross country at Harper College, Jim Macnider had one girl on his team.
Before joining the Hawks in 2011, Macnider was the department chair of Schaumburg High School's physical education department. He also coached the Saxon's boy's cross country team, leading them to three state championships. Despite his great success, he had never before set his sights on coaching at the collegiate level.
"I can guarantee you, I didn't intend to come here after I retired from Schaumburg. I just happened to get a call," the coach confessed. 
So why stay on for 11 years (and counting) when it hadn't even been part of the plan?
"It just keeps me busy, and I like it," Macnider explained. "It's been a lot of fun. It really has. And as long as it stays that way, I'll keep doing it." 
The aforementioned phone call has proven rather serendipitous for Harper cross country. This November, Macnider led the women's cross country team to their fourth national title, after scoring consecutive wins in 2016, 2017 and 2018. 
However, the circumstances around the team's most recent win was even more exciting than usual.
"When the first results came out, we were second," said Coach Macnider. "The girls were losing by 1 point. They were excited and disappointed at the same time. And then it turned out they forgot to score the DuPage girls." 
Harper student athlete Brianna Ruiz, 18, vividly remembers the moment she found out about the fluke.
"Me and [my teammate Araxi Boghossian] were just freaking out," Ruiz said with a laugh. "Everybody else was just looking at us."
Ruiz placed 10th overall in the national championship, after teammates Samira Rosenfeld and Lilly Alberts, who finished 8th and 3rd, respectively.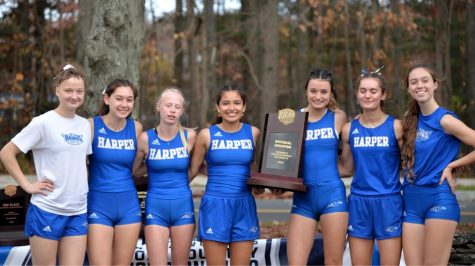 "As I was finishing, I saw this girl from Oxford, and I was just trying to catch up to her," the freshman said of her final moments of the race. "I didn't end up catching up to her, but it was just one mini goal that could help me out. But I just tried my hardest to give it my all, you know? I tried."
It's this "give it your all" attitude that Macnider believes is a runner's most important quality.
"What I wanna see is someone who enjoys running, wants to be running, and is dedicated so they come to practice every day and work hard," Coach Macnider said of his ideal athlete. "If you do that, and you improve, I can't ask for anything more."
Ruiz believes this season's championship team was created by one thing: "training really hard."
Though Coach Macnider has 11 other national cross country championships with Harper under his belt, he still finds something special in each team.
"I think this is the first time I can remember when all seven runners in a national meet ran their best," Macnider said, who was also the runner-up of the 1977 Chicago Marathon. "They all ran their best race of the season."
The sheer volume of championships Macnider has acquired has yet to numb him to the joy of seeing his team win.
"It still makes me feel as satisfied and gratified as back in 1985 when we won state championship in cross country in high school," the coach said. "I don't think that's changed for me. And as long as that doesn't change, I'm gonna keep doing what I'm doing."
Like any other team, there are times when the team doesn't perform their best. Coach Macnider finds it important that his runners learn to move on from a bad race.
"I've always told them: before a race, do the best you can. Don't tell me, I could've done this or I could've done that," he tells his runners. "When it's over, it's over." 
Above all else, it is clear to anyone who takes a quick look on the inside that Macnider and his team have one thing that can't be taught: a love for the sport and the team.
"I love the girls. They're so much fun," Ruiz said. "I think the night before the national meet, we just had like, a mini party in the hotel room, and we were just making chocolate-covered strawberries, doing facials, listening to Bad Bunny. It was really fun."
This love is something Coach Macnider hopes his athletes carry with them into other parts of their lives. 
"If you get a degree, and you get a job, no matter what it is, if it's something you really love doing, then you'll probably never work a day in your life," he explained. "I've been doing this for 50 years. I've never worked a day in my life. I've never not looked forward to getting up and going to work the next day. Ever. And that's what's important about finding something and then going after it."
View Comments (1)