Student government election winners announced after delayed and "discouraging" election process
Student Engagement shared the results of this year's student government elections on Instagram Monday morning, one month after the elections were originally scheduled. 
Based on a ticketing system, Prince Bahadur, Hamza Arshad and Mohammed Ismail won for president, vice president and treasurer respectively with 70 votes. 
Jonah Parra, Kevin Foss and Mitchell Ryba ran for president, vice president and treasurer respectively on the other ticket and received 49 votes. 
"Being elected as student body president, it was my, you could say quote on quote dream, from my sophomore year of high school," Bahadur said. "I really wanted to run if I ever got the chance to go to Harper. It would actually mean the world for me."
Bahadur plans on working to improve student involvement and student mental health as the new Student Government Association (SGA)  president. Although Bahadur is looking forward to making changes to these aspects of student life, he acknowledged that the election process had both ups and downs. 
In interviews with The Harbinger, several candidates and students involved in this year's election process called it "flawed" and "discouraging."
According to SGA member Dylan Hildebrand, Student Engagement didn't include the requirement of a ticketing system on the original election application, which is required under the SGA constitution. After receiving complaints from SGA and Student Activities Board (SAB), they added a ticketing system two days prior to the application deadline.
Because students felt the change was made on short notice, and would not provide interested candidates enough time to collect a ticket,  Student Engagement delayed the application deadline by one week. 
In previous years, the president, vice president and treasurer of SGA ran separately prior to the summer of their inauguration. This changed in 2019 when former Dean of Students Gabe Lara and SGA changed the constitution to a ticketing system where the president, vice president and treasurer would all run on the same ticket. 
Hildebrand, who has served on SGA for three years, said they made this change to encourage students to branch out and take interest in student elections. Last spring, students didn't show enough interest in student elections, so the elections were postponed to this fall. 
Hildebrand said he was unhappy with how Student Engagement handled this year's election application process.
"The preparedness for student government has been exceedingly low this year," Hildebrand said. "And that does seem to be an institutional problem originating in student engagement."
Once two competitive tickets were established,  the candidates were allowed to campaign from Oct. 1-11. 
According to opposing candidate Foss–Bahadur, Arshad and Ismail ran their own campaign through Instagram posts on the voting dates of Oct. 11-13, after the designated campaigning time was over–which allegedly violated the rules.
But Bahadur denies the allegation.
"My team or I, did not campaign after the campaigning time was over," Bahadur said. "The only story that was posted on our Instagram account was just to encourage students to vote. The post did not mention anything about voting in our favor or anything."
Additionally, Student Engagement took down the flyers for Parra, Foss and Ryba, yet missed the bulletin boards and kept up the flyers for Bahadur, Arshad and Ismail. Keeping the flyers up was also against the rules.
In an email that was sent to Parra, Foss, and Ryba, Student Engagement offered "reparative measures" for the above-mentioned errors. They suggested on the last day of voting, the Parra ticket send out 94 emails–the same number of followers the opposing ticket had on their Instagram story. The emails' content could not include campaigning for any specific ticket but could only inform students that they had until the end of the day to vote and could for anyone they wanted. 
Parra and Foss both felt that this remedy was unfair, particularly because it was offered to them 3:30 pm the day the election was closing.
More delays came after winners were not announced on the established timeline date. Student Engagement originally said they would announce winners by Oct. 19. They announced them a week later on Oct. 25 on Instagram, without any explanation or communication about the delays, to the student body.
Parra said the delays added to their frustration. 
"They [student engagement] came at us so hard about the rules and we tried so hard to follow those rules because we wanted to do this legitimately– because the things we had planned were legitimate," Parra explained. "I feel like I got scammed out of an opportunity to do some actual good work."
Freshman and SAB social media chair, Jose Hurst agreed and felt the process could have been managed differently.
"It made me feel like things were being a little bit unorganized and a little bit rushed at the same time," Hurst said. "Maybe a little bit more time could have been put into planning it all out."
Bahadur also felt that the election process was flawed. 
"I think there was a miscommunication just because they haven't done this in a while physically," Bahadur said. "So there was a huge mess up there."
Although Bahadur also felt frustrated with the mishaps, he expressed an overall positive view of this year's elections.
"I think it was one of the hardest elections to do as a candidate because it's so hard to reach [the] student voice at this moment because a lot of students are not on campus and even the clubs are not meeting as much," Bahadur explained. "So the election was a fun process for me and I really had fun talking to people and listening to them and seeing what they really would like me to do and what things really affect them at Harper." 
Student Engagement has not responded to The Harbinger's multiple requests for an interview.
Leave a Comment
About the Contributor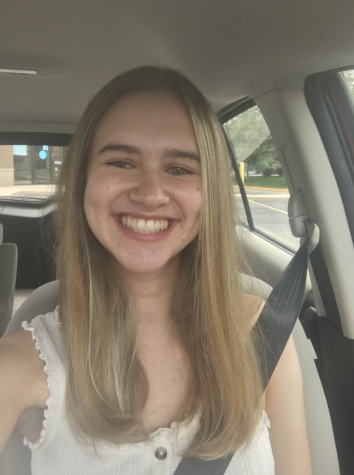 Adriana Briscoe, Editor-in-Chief
Adriana writes feature stories, news stories and editorials for The Harbinger.