Harper students confused over club fundraising policies
Hang on for a minute...we're trying to find some more stories you might like.
Harper's Pride Club had ambitions to establish a greater presence on campus. To accomplish this they planned to have craft sales, monthly booths highlighting various sexualities and gender identities, and host a school dance.
But as PRIDE geared up for this big year of events, they realized that they needed a bigger budget to afford it. They looked into their options for fundraising but ran into more problems.
Juliana Vercillo, the president of PRIDE Club, expressed her frustrations about miscommunication with Student Involvement. "Initially it was like: you can't do anything," she explained, "which we found shocking."
But Vercillo and her Vice President, Sam Ciero, continued to press for information. Harper's 2019-2020 Student Handbook and Board Policy Handbook only described money handling policies and stated that any fundraisers must be approved by Student Involvement.
Their search for answers prompted Student Involvement to take a closer look at specific policies. Ciero said that she was assured things would get resolved through a series of meetings, but that response didn't satisfy their concerns.
"Being in the process of getting bounced around, it was very worrisome," Vercillo added. "It was all about 'this you cannot do' and they weren't telling us what we could do. We were afraid nothing was going to happen." 
Eventually they got answers. On October 23rd, Gabe Lara, Associate Dean of Students, gave PRIDE club the go-ahead for fundraising. 
According to Lara, some common fundraising methods include selling tickets to talent shows or cultural showcases, hosting sports events like a dodgeball tournament where participants pay to be on a team, and crowdfunding. Erin Morettes, the Manager for Student Involvement, pointed out that the only major limitation is that no "pay to play" or gambling events like raffles are allowed.
Lara and Morettes emphasized communication with Student Involvement to ensure that they're successful and raising money appropriately. "It's a process and structure to fundraise," Lara said. "I think maybe that's where a little frustration could come from with some clubs saying 'this is taking longer than I want.'"
"We can help you to improve on your idea to make it generate more money," Lara urged. "Come to our office, this is what we do for a living."
He explained that student clubs must consult with Student Involvement first before doing any kind of fundraising. This policy is important when reaching out to companies for sponsorships.
The Educational Foundation, the not-for-profit organization that raises money for scholarships and programs like the Harper Promise Program, already has relationships with corporations that regularly donate money to the college.
According to Laura Brown, the Chief Advancement Officer for the Ed. Foundation, if a student club independently asked one of these corporations for money, that could jeopardize the donations they already give. She explained that those requests for small sponsorships aren't worth the risk of losing out on the larger gifts that benefit all students.
Bake sales were another topic of confusion amongst students. Rich Seiler, the Manager of Auxiliary Services and a liaison between Harper and Sodexo, provided clarification about student bake sales.
He said that any requests to provide food on campus must be approved through him and Student Involvement. Any food being provided for consumption, especially if it's being sold, must comply with state and local Food Sanitation Codes along with the college's third party contractual agreements with Sodexo and Pepsi.
With some exceptions, Seiler stated, "This means that food for public human consumption must be prepared in a licensed/permitted facility to minimize risk of food borne illness."
One such exception was allowed when Seiler approved the Animal Rights Club to do a vegan bake sale. According to Illinois Food Code, that club had to post signage stating, "This product was produced in a home kitchen not subject to public health inspection that may also process common food allergens."
"If it's something Sodexo provides, like pizza, they have the first right of refusal as a part of their contract with Harper, since it's their job to provide food for the school," Morettes explained.
Foods that must be kept time and/or temperature controlled aren't allowed, according to Seiler, and would instead by provided by Sodexo. Lara recommended that the best kind of food to sell at a bake sale is prepackaged goods that don't need to be heated or refrigerated.
Lara also declared that he's putting a hold on bake sales until spring semester. He said that he wants to fully familiarize himself with and revise all relevant policies before making a decision on how to proceed.
While bake sales are considered a traditional way to raise money, Laura Brown claims that the Educational Foundation's new crowdfunding pilot program is a more efficient and fruitful option.
She said that she saw GoFundMe campaigns popping up as a way to raise money for clubs, but using this website was problematic for students. "You as a student have to link a bank account, and now students are receiving donation funds into personal bank accounts and being taxed," she explained. "The donors get no tax benefit, GoFundMe charges a service fee, and who's managing the money?"
Brown said that she saw the potential in crowd funding and about a year ago and the Ed. Foundation developed a similar platform to make it easier for students to operate.
"The Educational Foundation receives funds as a 501(c)(3) (an organization exempt from federal income tax under section 501(c)(3) of Title 26 of the United States Code) so there are no tax implications for the student," Brown specified. She said that the funds are placed directly into club accounts, there's no overhead costs for clubs to have to sell products, the Foundation covers service fees, and donors can be receipted to receive tax benefits.
"Especially if you have a family member or friend who's giving a sizable donation, like this one company gave a thousand dollars. Now would they give it to a student or organization and never get a tax benefit?" she asked. "If they're a small business, probably not."
According to Brown, one of the most important features is the thanking of donors directly. Kim Pohl, the Interim Director of Communications at Harper, said that this practice will set up clubs for long-term success so that donors will gladly make a repeat donation.
The program was offered to more than 10 clubs on campus, but some turned down the opportunity. PRIDE is one of those clubs, and the leaders of PRIDE offered a different perspective on the crowdfunding initiative.
Juliana Vercillo said that they turned it down because it was too demanding. "We don't have enough time or consistent members," she explained. "I'm a full-time student with a part-time job."
The "Crowdfunding Tool Kit" guidebook provided by the Foundation is 26 pages and details the process that goes into a successful campaign, including a list of 47 steps to complete over more than two months.
Vercillo and Ciero said that the program felt overwhelming, last-minute, and they mentioned that a similar sentiment was expressed by another group that turned it down.
Laura Brown said that while there's no minimum hours per week for people required to participate, a club must have at least five members participating to be successful. She also mentioned that it was hard to get clubs to commit to the program; the Foundation offered orientations but no clubs showed up to the first one. 
Despite these challenges, Brown affirms that the program will teach students relationship-building and story-telling skills—the keys to successful fundraising in her opinion.
As for PRIDE, they said they'd rather continue selling crafts to raise money.
Vercillo said students should never be afraid to ask questions and fight for what you want done. Ciero added, "No matter how hard it is or how much it seems like they want to shut you up, because that's what it's seeming like to me."
About the Writer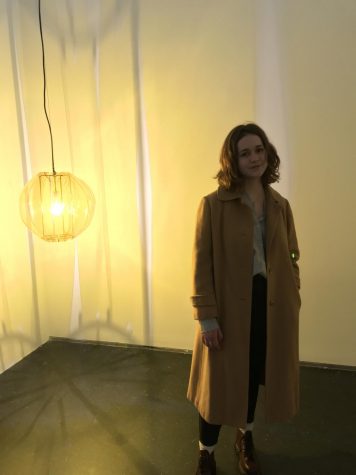 Izzy Reno, Reporter
Izzy is majoring in Sociology and is interested in studying linguistics and anthropology. Her superpower of choice would be the ability to read minds.