The University Center offers Harper students new options for transfer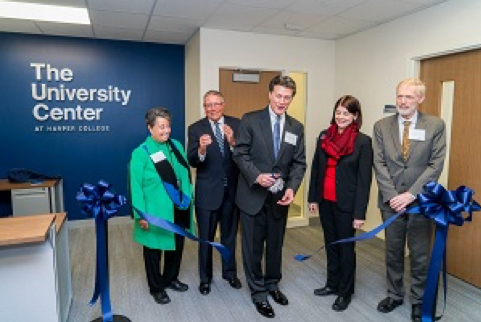 Room 264 in Building D– many students at Harper College walk right past it every day; But how many stop to find what awaits within its walls?
The University Center sits hidden on the second floor of the D Building where most students cut through to get their coffee at Starbucks and then get to class.
The University Center's purpose is to connect students with access to some of the colleges in the area and their programs. These programs are taught by professors from DePaul University, Northern Illinois University, and Roosevelt University right here on Harper's Campus–for a fraction of the cost.
DePaul University offers programs in Business Administration and Communication & Media for students to earn their bachelor's degree. Northern Illinois University offers a bachelor's degree in Computer Science, Marketing and Psychology. Roosevelt University provides bachelor's degree in Criminal Justice, Elementary Education, and Health Science.
Unfortunately, not many Harper students know about the University Center programs. 
"This department has [only] existed for about a year and a half, so we're trying to get the information out there and it is very hard to measure at this point,' explained University Center Assistant Maxwell Bisaillon. "I would say probably about 20-25 percent of students are aware of what it is and what we do. More than that probably are familiar with the name but don't understand what it is that we do."
These programs are designed for Harper students as well as returning students that are already in the workforce. Cohorts start in the fall for these programs provided that there are enough students per class. These cohorts are the same throughout the 2-year or 3-year journey, so students will be paired with the same classmates the entire time unless they choose to transfer to the actual university's campus in the last year or two of the programs. 
"We get everything from full time workers in the area who are coming back for their bachelor's degree and are adults and have families, to more traditional students who have come out of high school, finished their associates [degree], and want to complete their bachelor's [degree]," Bisaillon said.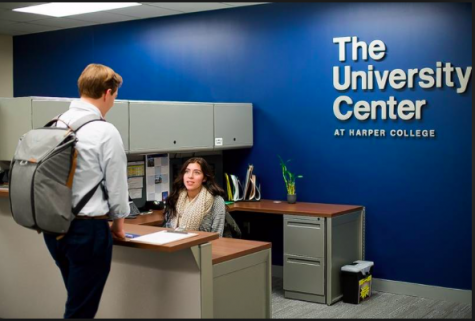 In addition, students will save thousands of dollars by taking this route. The University Center gives students a 25 percent stipend off of the cost of tuition For one of these chosen programs. This does not even consider the money students will save by avoiding room and board fees or even the time and gas money saved by not having to commute downtown or to Dekalb.
Melania Toczko is one of the few students that is enrolled in Harper's University Center program. She is on track to graduate from DePaul University.  
"I love the proximity and privacy. Personally, I'm totally fine with not leaving home for a while longer in order to save up some money. I live 15 minutes away from Harper, and I'd much rather drive myself to and from our campus rather than have to learn to maneuver the complicated Metra and Pace systems in Chicago, much less share a dorm with a stranger," Toczko shared.
Despite its benefits, Toczko labels herself as a "guinea pig" of the program suggesting that there are problems that still need to be worked out with the young program.
"Because the program is so new, many students with more than the required amount of credit hours for transfer (66) have entered the program after receiving their associates and have to play catch up."
Toczko disclosed that there are positives and negatives to the program, but realizes that it is fairly new meaning any issues that are associated with the program have the potential to be worked out in the future.
"Essentially, the transfer process is still extremely stressful, but this program has the potential to make things much easier for students enrolled in it once it's thoroughly established," Toczko pointed out.
However, the current transfer process does not cut any corners. 
According to Agnes Szemborski, the transfer coordinator at Harper, students who are enrolled in these programs are considered to be students of that university. This means that all the privileges that come with being a student at one of those three universities are applied to the students. Want to go to a Blue Demons' basketball game? Done. Feel the need to use the Roosevelt library? Go for it!
 The University Center programs are not for everyone however.
"We obviously want students to come into our program, but we want students to be successful, so if this isn't the right program for them, then we're not going to push them into this program," Bisaillon explained.
Toczko added that the program prohibits students from being involved with other programs on Harper's campus.
"You can't really be highly involved in any extracurricular activities when you're part of the program. I've loved my time on the speech and debate team, but [Harper Speech Team Coach] Jeff Przybylo and I, aren't sure if I'll be able to compete on Harper's speech team once I've joined the University Center program," Toczko explained.
The three schools are not offering every single degree that they offer, so The University Center is really only for students that are seeking a career in the aforementioned degrees, and would prefer to have the convenience of being at home, or being able to work a daytime job. 
Bisaillon added that they are eager to expand the program by having more partnerships with other universities and programs once they can pinpoint student demand.
"It's all going to be driven by students and student demand, so the more students that we get, the more programs and partners we will be able to accumulate," Basaillon said.
Bisaillon also stressed that students interested in joining the program should come talk to a member at The University Center to see if their programs would be a good fit.
Harper Hawks should stop by room 264 in building D in order to speak with the University Center staff, or contact Agnes Szemborski for transfer information regarding the University Center.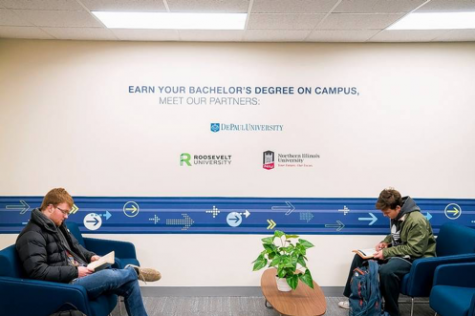 About the Writer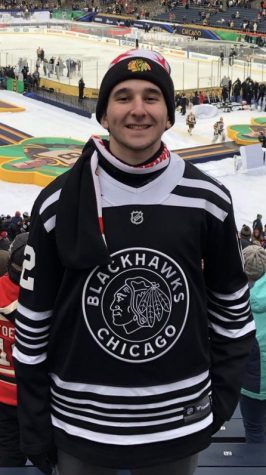 Mike Napoletano, Sports Reporter
Mike is studying Business and Communications. His superpower of choice would be to have Advanced Intelligence.