Profile: Shiloh Clow discovers self-love through yoga
There is a comforting glow to the studio upon entering. A stretch of candles and fairy lights warmly illuminate the room as gentle, ambient music fills the atmosphere. A college-aged girl with a high ponytail and athletic wear approaches each guest and introduces herself. 
The time hits 4:45 p.m. and the girl announces that the yoga session will now begin. 
Her name is Shiloh Clow, and she is a current student at Harper who teaches group yoga classes on Tuesday evenings at Harper's fitness center. 
As her students guide their bodies through a series of movements, Clow continuously reminds them: "It's not what it looks like, it's what it feels like."  
Clow has been practicing yoga for five years now. She completed her yoga teaching training in May 2022 and now guides friends, family and members of Harper's community in the enriching practice. 
"Yoga changed my life," the 22-year-old affirmed. "I want to change others' lives as well."
Her teaching philosophy is to create a space that is free of judgments and expectations that will allow students to come as they are.  
The students inhale deeply and exhale fully as Clow leads the class into a deep hamstring stretch. One participant wobbles, unsure of the movement. With an encouraging smile, Clow casually moves to their side of the room to demonstrate the alignment. 
Clow understands firsthand how challenging yoga can be. She remembers comparing herself to her peers in the beginning but found acceptance within the imperfections as her yoga journey continued. 
"Even if you mess up, just keep going," Clow urged. 
Yoga, which has become increasingly popular in the United States, is an ancient spiritual and physical practice that aims to create greater alignment within one's body and mind. 
Its popularity is backed by scientific evidence of yoga's benefits, such as increased energy and  feelings of calm, better heart health, and greater balance, strength and flexibility.  
Because yoga can be compared to dance in many ways, Clow, who grew up as a dancer, was immediately hooked after her first yoga session, which her friend encouraged her to try.
Despite Clow's instant connection and intrinsic love with yoga, participating in the yoga teacher training program was far from easy. She took a semester off from her studies to pursue the certification in the midst of overcoming a painful breakup. 
Clow recalls feeling scared and unprepared the entire first month — not only because it was physically exhausting, but because of how emotionally draining it was to delve into the inner work she had to do. 
"I poured in everything," Clow said. "But it was so worth it in the end."
The yin-yoga sessions, in particular, played a significant role in her healing process. This type of yoga requires long periods of stillness, often in uncomfortable positions. Clow related them to therapy, as she remembered crying during classes. She described feeling like a "whole weight was lifted off" of her as she allowed her emotions to pour out. 
Clow's training made her appreciate the discomfort that is necessary for growth and opened her eyes to the value of being single. 
"To show up for others, you need to show up for yourself," she affirmed. "Then when the right person comes along, you will be ready for that person."
The young yoga teacher expressed that one's early twenties are a time to travel, learn about oneself, try new things and make a hundred mistakes.
She is now on the hunt for a new challenge that will further test her comfort zone. Her dream is to own a yoga studio on the beach and teach yoga sessions around the world. 
In the meantime, Clow commits to yoga classes two to four times a week when she isn't babysitting or working towards her associate's degree and TESOL (Teaching English to Speakers of Other Languages) certificate to teach English abroad.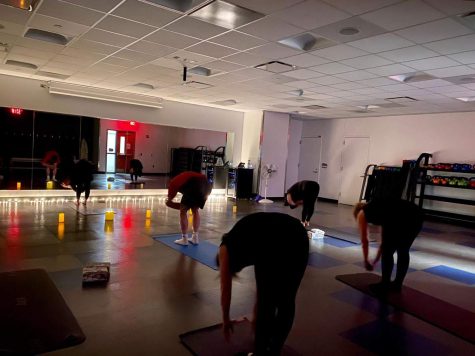 Clow stated that even if she doesn't teach yoga, it will always be part of her life.
"It connects with who I am as a person," Clow said.
Ultimately, she declared, yoga is medicine for the body. 
As her class came to a close, there was a newfound sense of peace and renewal in the studio;   Clow brought the group together after concluding the one-hour-and-fifteen-minute session and thanked everyone for coming and showing up for themselves.
She bowed and her students, who range from all different ages, physical abilities, and experience levels, bowed their heads in return with a "namaste" as a thank-you: an illustration of the accessibility of yoga and Clow's firm belief that yoga is truly universal. 
"Yoga is for everyone — every age, shape, and size," Clow said. "Don't worry about everyone else. Just focus on yourself and the four corners of your mat."  
Leave a Comment