Profile: Maricarmen Gonzalez strives to revitalize the role of student trustee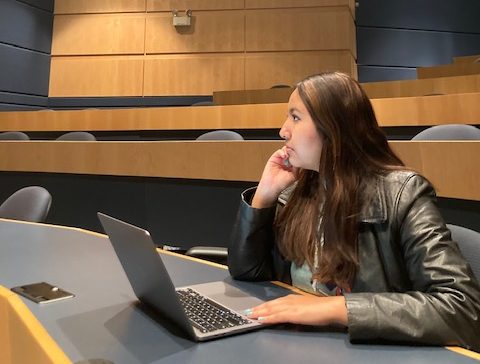 Harper College student trustee Maricarmen Gonzalez amplifies our students' voices and advocates for equal opportunities in all aspects of her life and ours. But who is she really, beyond just her duties?
Gonzalez is 19 years old, in her second year at Harper, and hails from Carpentersville. She's studying political science with hopes to become an environmental lawyer. Gonzalez stresses the need to bring more attention to the dire state of environments around the world.
During her time at Dundee-Crown High School, Ms. Hesapis, one of her teachers, told her to "make sure you go to a place where you feel welcome." Seeing the massive variety of backgrounds at Harper, she immediately felt at home. Gonzalez chose Harper because of its diversity, which is very important to her as a Hispanic woman. 
She works in student engagement, which is how she learned about the position and decided to run for student trustee. She felt it would give her real insight into the world of politics, since it's the job of both a political candidate and student trustee to get approval from the people.
In her first meetings she felt nervous and unqualified. She thought to herself, "I'm a girl, a Hispanic woman, what am I doing here?"
But advice from  her first meeting with Harper College president Dr. Avis Proctor,  reminded her of the importance of her role in helping the board to hear the students' voice. Due to Dr. Proctor's encouraging words and a better understanding of the rhythm of board meetings, she eventually gained her footing.
Gonzalez has a difficult role on campus: she has to consider all of our diverse student body's opinions and needs, and then come to a consensus with the board that serves everyone. 
"Being trustee, I know there are a lot of people that come from a lot of different backgrounds that have a lot of different views… and at times, it's like how do I balance all this?" Gonzalez said. "At the end of the day, it's really just choosing what's going to benefit us as a whole."
Through all these long meetings and difficult transitions, her goal as a trustee has remained to represent the students, she said. 
"I always want to make sure that their voice is heard. I want them to be able to come to me with things," Gonzalez said. "I really depend on them a lot to give me their feedback, [and] to come to me if they feel like they're not being heard."
One of Gonzalez's closest friends, Lorah De Jesus, who also works with her at student engagement and helped with her campaign, said she's a good trustee because she's so involved, and is someone you can trust to "go out of her way for you." In fact, her selflessness is so strong that De Jesus believes that Gonzalez has revitalized the role of student trustee through her service. 
"As much as [she gets] involved, she wants to get other people involved as well," De Jesus said. "Honestly, I didn't even know what a student trustee was before her." 
Gonzalez's advice for minority students is to apply to as many scholarships as possible and complete your FAFSA. She understands the struggle of having parents that – although encouraging – don't know much about the college application process and don't have the money to pay for a four-year university. She thinks money problems should not be a barrier to people wanting to get an education.
"Don't be scared to try things on your own," she said. "It can be scary at first, but always ask for help if you need it." 
Gonzalez said she wants Harper students to know they can come to her with concerns and questions. And, that they should always speak up and vote. 
"Your voice is the most important thing you have," Gonzalez said. 
Maricarmen can be contacted through her email, [email protected], and her Instagram, @Mari4Harper, where she posts regularly about campus events and political happenings.
View Comments(1)