The TALK: Diversity and inclusion workshop
Almost 60 people attended the first ever "TALK" workshop event at Harper College on Thursday October 3rd.
Harper's Student Involvement group and Associate Dean of Students–Gabe Lara, organized this workshop and reached out to clubs, organizations, faculty members, and athletics to get students to attend. This workshop was attended by a variety of students in the seminar room in building E. 
This free workshop was open to all students attending Harper College and was designed to celebrate and raise awareness about the multiple identities that comprise  individuals that make up Harper College. 
"The TALK is an acronym for 'Transformational Advocacy through Listening and Knowledge,'" Dean Lara said. "The hope is that this workshop helps attendees think about their own identities and help them become more aware of understanding the different perspectives and experiences of those around them."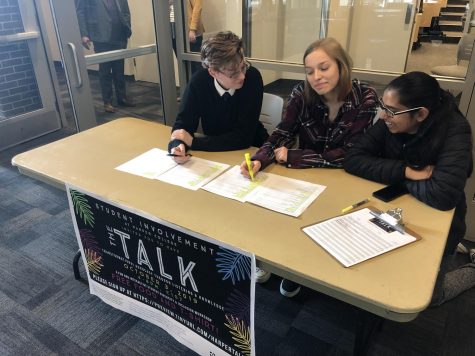 Harper student Lois Du Preez felt that this workshop was very important and beneficial. 
"It made me see things from a different perspective and take into consideration other people's points of view," Preez said. "We don't know what we don't know. The only way to further our knowledge in diversity and inclusion is by talking about it."
There will be more opportunities like this available for students in the future. Lara explained that he and Student Involvement are trying to increase the diversity inclusion initiatives. There's been a high increase in diversity at Harper College, and their goal is to offer more workshops and trainings for students to dive deep into these conversations. 
"We like to see who our students are and understand and develop on the identities they have," Dean Lara added. "We celebrated Latino Heritage Month, we're going to do Black History Month, Women's History Month, Pride Month, and etc."
Another Harper student, Marwill Chirinos added that diversity doesn't only relate to race and ethnicity. 
"It can include students of different religions, economic status, sexual orientation, gender identity, and language background.," Chirinos explained. "Workshops like these are perfect for Harper College. The topic of diversity promotes student growth and reflection to succeed here on campus and in the workforce."
Students interested in participating in future TALK events should reach out to the office of Student Activities for more information.
Leave a Comment