Chicagoland Home Haunts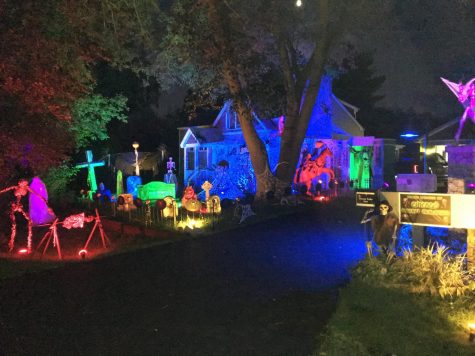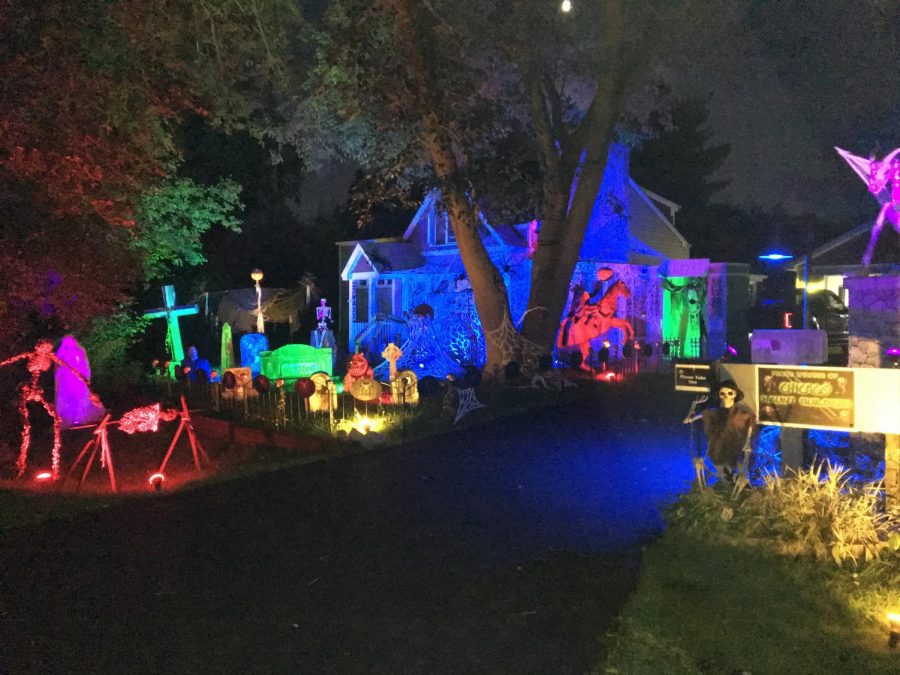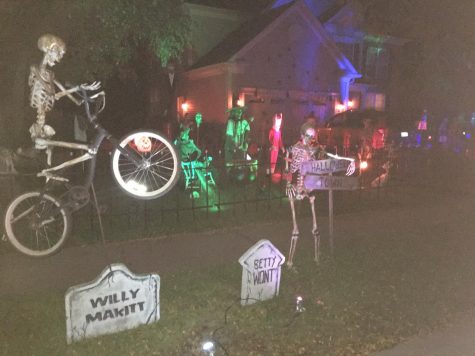 The Month of Monsters is finally upon us, and many of the best decorated houses are in full swing! Want to know which ones are the best?
Every October for the last 17 years, my dad and I have travelled around the suburbs of Chicago to some of the most over-the-top yard displays, or better known these days as "Home Haunts."
I would argue that these houses are actually better than Haunted Houses.
First, all of them are free! Unlike all of the official haunted houses, you don't have to pay a dime to get in. However, do bring your wallet with you because most houses accept donations for their hard work or even some really great causes such as supporting animal shelters and cancer survivors. Some even collect canned food for food pantries and homeless shelters.
Secondly, there is no line! Most haunted houses make you wait in a long line just to get in, but these Home Haunts are just people's front lawns, backyards, or even garages. You don't have to wait in a long line. You can view their display quickly, and some have walkthroughs or garage haunted houses attached that are just as creepy. A lot of houses have actors that are as good as any masked creature at a primetime haunted house. A lot of the bigger haunted houses buy their props or have professionals decorate because they have the budget available to them. Yet, the home haunt owners keep up the pace by building up their displays year by year and a lot of them devote their free time to designing and constructing their own props using pneumatics, hydraulics, and electronics!
Lastly, you can hit multiple houses in one night! Just like the latest fashion trends or viral videos, these houses are contagious and tend to spread the spirit of Halloween to their neighbors. These houses might be spread across the various suburbs of Chicago, but the Halloween flu allows you to pick a region and visit about 10 houses per night! It's like having a bunch of haunted houses right in your neighborhood!
That being said, how do you know that these are all worth going to? How do you even find these houses? What are their hours? What dates are they open? Which ones have interactive actors?
Fear no more Harper! I have ranked the best houses based on the ones that I have seen so far and input from my family and friends. 
Without further ado, here are the results:
Northern Suburbs
  Haunt 31- 340 S. Annandale Drive, Lake in the Hills
Hands down, THE BEST house I have seen yet. I don't want to give too much away for this one but the animatronics are amazing and the scenery is to die for! The audio on the props is spot on and there are often live actors. Most of the props are handmade but look so professionally done. The owner of this house was recruited to remake the haunted house at the Goebberts in Hampshire, because they loved his work so much!
Hours: Sun-Thurs Dusk-9:30PM, Fri-Sat Dusk-10PM
Dates: October 1st-31st
  Canyon Trail Cemetery- 371 Canyon Trail, Carol Stream
This house is amazing! Lots of pumpkins and witches that move and jump at you. Every inch of the lawn is covered and you feel like you are in a scary movie!
Hours: Sun-Thurs Dusk-9PM, Fri-Sat Dusk-10PM
Dates: October 5th-31st
  Westbury Manor & Cemetery- 1821 Westbury Drive, Algonquin
This house has everything horror that you can think of and a really awesome trail leading up the lawn to the side of the house and across the porch! Lots of animatronics!
Hours: Every night Dusk-10PM
Dates: October 7th-31st
  Dead End Cemetery- 23W411 Ardmore Avenue
This one is tricky to get to if you are unfamiliar. It is right off of Roselle Road and Bryn Mawr Avenue. The location is perfect because the dead-end street gives you a true graveyard feel. Lots of handmade animatronic props that will make your jaw drop!
Hours: Every Night Dusk-10PM
Dates: October 5th-31st
  Halloween Town- 1821 Hartley Drive, Algonquin
This one is located right down the block from Westbury Manor & Cemetery. Take a left, a right, another left, and another right, and you will see two whole houses decorated in honor of The Nightmare Before Christmas and even a darker side with animatronic zombies and creepsters!
Hours: Every night Dusk-10:30PM
Dates: October 12th-31st
  Holiday Habits- 10716 Wheatlands Way, Huntley
Awesome yard display and even a chance for a photo in the selfie coffin! Really cool archway and skeleton props. There are even live actors on October 19th and Halloween. You won't want to miss this one either!
Hours: Every night 6:00-9:00PM, Halloween 4:00-10:00PM
Dates: October 5th-31st
Southern Suburbs
  The Nephilim- 8215 S. Mulligan, Burbank
This is another one that is 2 houses. There might not be as many decorations and props as some houses, but they definitely make up for that in the gore category. The actors are typically out and about each night and they are really what make this house great!
Hours: Fri-Sat 7:00-11:00PM, Sun 7:00-10:00PM
Dates: Weekends only October 11th-13th,18th-20th, 25th-27th, and Halloween
  Shurley House of the Dead- 17404 Deer Creek Drive, Orland Park
This one is pretty far south, but worth the trip! There are a lot of actors and every single inch of house and lawn is covered in Halloween! The way they transformed the house is incredible! A must see!
Hours: Sun-Thurs Dusk-10:00PM, Fri-Sat Dusk-11:00PM
Dates: October 4th-31st
  Dark Shadows- 16741 S 88th Court, Orland Hills
One of the darkest and creepiest houses! There is typically a walkthrough haunted house through the garage, but I have not actually been out to this Haunt this year. Not too far from Shurley House of the Dead, this one has been around for 19 years, so I wouldn't miss this great scare if I were you!
Hours: Every night Dusk-9:00PM
Dates: October 18th-31st
  Spirits on Sproat- 9028 Sproat Avenue, Oak Lawn
This house is something completely unique! It is a gallery of every single horror villain that you could think of classic to current. I have not made it out to this one yet either but it seems they have changed their layout so that not everything is in the backyard as it was done previously. This one is near The Nephilim, so be sure to stop by, and be sure to look out for some creepy Halloween characters lurking in the shadows!
Hours: Fri-Sat 7:00-11:00PM, Oct. 31 & Nov. 1. 7:00-10:00PM Sun & Oct. 21st, 23rd, 24th, 28th-30th
Dates: October 4th-6th, 11th-13th, 18th-21st, 23rd-31st, November 1st
For any other house listings, check the Main Haunt Directory at www.HauntedIllinois.com or even the Chicago Haunt Builders list which is also located through Haunted Illinois. Stay tuned for more of my reviews and Halloween themed articles!
Leave a Comment