Transgender student activist Lane Crim uses his story to silence stigma on campus
Many have witnessed 19-year-old Lane Crim striding through the Harper quad amidst the noon rush in loud rainbow Converse. But few may know the story behind the colors.
During the week of November 13 to 19, the Harper Pride Club hosted a Transgender Week of Visibility on Harper's campus leading up to Transgender Day of Remembrance on November 20: a day dedicated to remembering lives lost due to violence against transgender people.
According to the Human Rights Campaign, as of 2016, 64.5 percent of transgender and non-binary students are verbally harassed and bullied at school. Crim played an important role in preparations for Trans Day of a Remembrance because his story deeply reflects this statistic.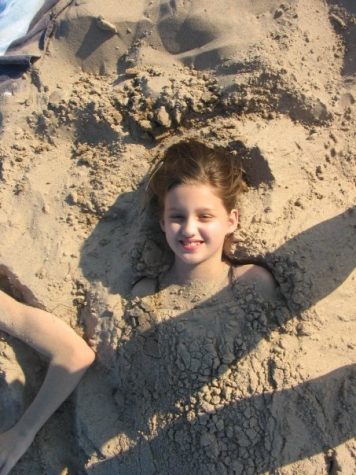 At the age of four, Crim took ballet lessons, had long hair, and wore a tutus that always seemed uncomfortable to him. As the years progressed into middle school, Crim began to develop breasts. Along with this came the clear revelation that there was something much deeper to the reflection in the mirror: a boy trapped inside a girl's body.
Crim came out as transgender to his friends and family as a sophomore in high school. Although he received support from some, Crim soon realized his transition would be one of growth and pain and that his journey would open the minds to the many complexities of being apart of the trans-community.
At the start of his transition, Crim struggled with anxiety and depression. He was often misgendered and wrestled with body dysphoria, becoming hyper focused on flaws in his body and physical appearance as it did not match the his gender identity.
Two of Crim's first transitions were dressing as a boy and changing his name and both he and his family seemed to have no issues adjusting. However, changing pronouns didn't come as easy.
Crim put it simply saying, "people seem to switch names faster than they do pronouns."
Despite being 'Lane' to those around him, he has not been able to legally change his name. Because of this, there is confusion amongst strangers on first glance.
"I would really appreciate if Harper let me use my name rather than my birth name on my student ID, my portal and my email because it's not just my 'preferred' name it's my name," Crim explained. "I've had problems with people calling me by my legal name even though I repeatedly tell them my name is Lane."
Crim chose the name 'Lane' his sophomore year of high school making sure to connect it with his gender identity. At the time, he identified as trans-male, but kept his name gender neutral to include both his femininity and masculinity and to acknowledge that he was not bound to either side of the spectrum. Although Crim refused to specify his birth name, he disclosed that he made the unique decision to choose a name similar to it.
"When I picked my name I thought part of my gender identity might have something non-binary to it," Crim said. "I only wanted to change my name once and I liked the sound of Lane because it means road or journey and life and transitioning are definitely both journeys."
"Not every trans-person picks a new name, but if you do, a funny quip I have is when people compliment my name I can say thanks I picked it myself," Crim added.
During the first stages of his transition, Crim received negative attitudes from some faculty while in high school causing challenges in his extracurricular life.
"In one club I did, the director didn't treat me the same as other guys," Crim stated. "She viewed being 'accepting' of me as only doing what was legally required of her."
Moreover, he experienced bullying from other students and was called homophobic slurs such as 'tranie' and 'he-she'. He heard many mock his birth name and also depicted an incident where another student created an Instagram account just to harass him. When Crim began using the boy's restroom during his senior year, he avoided using the boy's locker room for reasons of safety.
"I hadn't had top surgery yet and I didn't feel safe. I had heard of boys randomly attacking other guys who weren't trans in the locker room so I definitely felt safer in the nurse's office," Crim revealed.
Crim then quickly noted he could have benefitted from a gender neutral bathroom or locker room in his high school.
Further into his transition, he finally began hormonal treatments when he turned 18 because his parents would not consent to a physical transition before then.
"It was frustrating," Crim explained. "It was like they didn't believe me when I said I was transgender. They told me if I knew I was trans as a kid and expressed it, then they would've believed me."
As time passed in this stage of his transition, his body hair and sex drive increased, his hair grew thinner, and his voice deepened.
"During this, I felt a release of tension and I felt so comfortable in my body," Crim happily revealed.
Throughout his journey and transition, Crim has been an outspoken activist for LGBTQ+ rights. Not only does his fashion express his identity, but he started his own business Gays N' Roses where he sells handcrafted, pride-colored flower crowns.
In addition to this, he and a few friends rebooted his high school's dormant Sexuality and Gender Acceptance Club (SAGA) during his sophomore year.
Today, Crim is a proud member of Harper's Pride Club. According to Crim, the club is "starting from scratch" this year because many of its members graduated. Despite being small in numbers, Crim uses his position in the club to speak out against campus stigmas and spread awareness about overlooked issues affecting the LGBTQ+ community. One issue he is passionate about is the violence against trans-women of color.
"People need to be aware of the violence against trans people. The suicide rate for trans youth is so high and there are so many hate crimes against the trans community that aren't acknowledged. I mean, the average life expectancy for a trans woman of color is 35," Crim expressed grimly.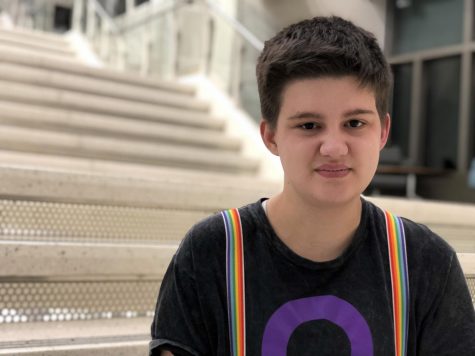 As a Harper Student, Crim hopes students will become more aware and understanding of the differences between gender identity, gender expression, and sex.
"People like to put gender into boxes and it's not like that, it's a spectrum. Gender identity, expression, and sex are separate," Crim explained. "You can identify as male and wear feminine clothing, you can identify non-binary, but identify more with a certain side of the spectrum."
After a long and rigid journey, he proudly identifies as trans-male for his sex, but accepts the label of non-binary for his gender identity. Crim continues to spread his message of inclusiveness and diversity within the transgender community all while wearing those colorful Converse everyday.
This story was originally published on April 26, 2019. 
Leave a Comment