Harper Student Collects Old Typewriters
While typewriters may be a thing of the past, to some, these antique gems tell a story sometimes reflecting on years of family history. Just ask 21–year–old typewriter collector, Morgan Locigno.
What began with a single typewriter given to Locigno as a gift from her grandmother, turned into a collection of eleven and counting.
"Some people will collect beanie babies but for me it's typewriters," said the Harper student.
Locigno's love for typewriters grew after the passing of her grandmother. She has an impressive collection, but there is one in particular that holds a special place in her heart.
"My typewriters are like my babies, I can't pick a favorite, but if I had to, I would choose the first one that my grandma gave to me," Locigno said.
The proud collector keeps these Pinterest worthy antiques on display in her room. Her grandma's cadet blue typewriter takes center stage among the rest of her collection. However, these antiques aren't just decoration that is pleasing to the eye, they are in good, working condition.
Locigno was exposed to typewriting at a very young age.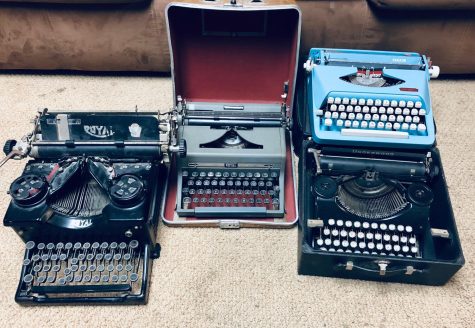 "I used a typewriter in Mrs. Pawlowski's fifth-grade class. I thought it would be a cool idea to use a typewriter for my paper. I turn it in and get a C on it because the font wasn't twelve points, Times New Roman," Locigno recalled.
While Mrs.Pawlowski wasn't fond of her hobby, Locigno utilizes her passion at work.
"I work at a law office and I use a typewriter to update documents, it's very time consuming but I love it," Locigno said.
The collector has become known as the queen of typewriters among her friends and family.
"They say I'm like an eighty-year-old woman trapped in a young body," she said. "Whenever someone sees one they take a picture and send it to me," she continued.
Locigno wants to keep the typewriter from being a thing of the past.
"I'll be watching a show from the fifties and there will be a typewriter and I'll just pause it and look at it," she said.
Everyone has their thing and for Locigno it's typewriters.
"I just get so passionate about it. It's the one thing I'm really really good at, fixing and using them, "Locigno said.
In order to grow her collection, she goes to flea markets and antique shops.
"I really don't think I'm trying to get to a certain number, but if I find one that's unique and at a good price, I can't resist," Locigno said.
Locigno has thought about parting ways with some of her collection.
"I have so many of them and most of them look the same so I'm thinking maybe taking them to Goodwill or selling them, but keeping the ones that look really cool. I've been doing it for so long I just don't want to part ways," Locigno said.
Parting ways or not, Locigno will always have a little piece of her prized possessions with her. The Harper student has a tattoo on her wrist that says "me" with a heart around it written in typewriter font. The tattoo was a gift from her grandmother and is a constant reminder of the two things she loves the most: her grandmother and typewriters.
Leave a Comment