THE SHL: SCHAUMBURG HOCKEY'S BEST ON DISPLAY THIS SUMMER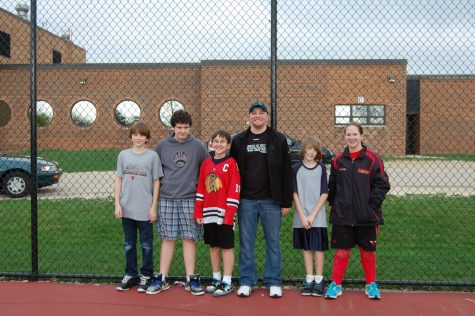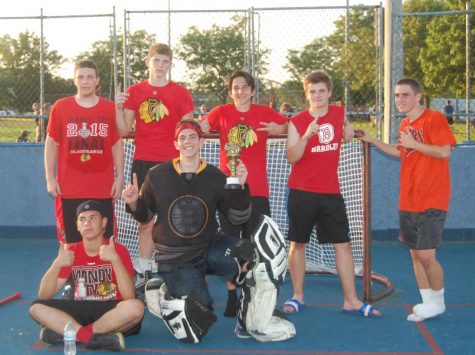 SCHAUMBURG- Any hockey fan knows that the 2019 NHL Playoffs have been nothing but exciting as always. To say that this year's 2-month tournament has been unpredictable would be an understatement, and the fans are loving every minute of the chaos.
The idea that any one team can make noise in these playoffs despite regular season standings and statistics sets the National Hockey League apart from other leagues that tend to feature the same teams having playoff success year after year due to the formation of "Super Teams" or relaxed salary cap rules. The cherry on top, is the dream of taking home the most storied and challenging trophy to win in all of sports: the infamous Stanley Cup.
It is no surprise that the Stanley Cup Playoffs are the post-season of choice for any literate sports fan, however, Chicagoans are starting to lose the feeling of what that is like.
The Chicago Blackhawks, the hockey juggernaut of the Second City, have not made the playoffs in 2 years. The longtime fans will tell you that these last 2 years have been a few grains of sand compared to the long championship drought that they had to endure under previous owner William "Dollar Bill" Wirtz.
While it's true that the 2010s have been a blessing for the Blackhawks organization and its supporters, it causes younger fans to be a bit impatient.
In the last 4 years, the Blackhawks have not even made it past the first round of the playoffs; there are 4, best-of-seven series to pass en route to taking home Lord Stanley's Cup. The previous 3 years did not even feature a playoff victory for the mighty Blackhawks!
For a fanbase that is accustomed to having a parade in June almost every-other year, the last two Springs without playoff hockey have felt like an eternity.
Fear not Chicago hockey fans! There is hope! The Blackhawks are predicted to be a playoff team next year!
I can hear it now: "Next year? We have to wait that long…?"
The answer: NO! There will still be a Stanley Cup Final right here in the suburbs of Chicago.
Now, I'm imagining your puzzled faces!
On Saturday, June 29that 7:30PM, the Schaumburg Hockey League (SHL) will host its 10thchampionship game, but what exactly is the SHL?
Harper College Alumni, and current Illinois State Redbird Anthony Morini explains: "The SHL to me is one game each year that all of my friends come together and play one huge game."
The SHL was formed in 2011 by yours truly. It originated as a bunch of 6thgraders who could not skate, so they played street hockey. They played in their caul-de-sac and the local Junior High School tennis courts, because they had no cars to get them across town to the park with the roller rink. Every year around Spring or early Summer, the league has 1 large annual game that is deemed as the championship.
It started as 6 players and 2 camerawomen (Yes, I said camerawomen. Thanks Mom and Mrs. Kathe!). Flash forward 8 years and it has become a blockbuster staple of summer each and every year. Sounds ridiculous right? Wrong!
Today, 20 players will lace up rollerblades and compete for an official replica of the Stanley Cup. 5 cameramen, 2 GoPros, and 1 set of Snapchat Spectacles make sure to catch every highlight from every angle. There are commentators that entertain the countless fans by controlling the music playlists, the scoreboard and clock timer, and jumping on the microphone to interview the players and joke with the fans. Over 50 people come together each year to make this dream come true.
One of the newest additions to the league is Schaumburg High School graduate Matthew D'Amelio.
"[The] best part about playing in the SHL is that I get to catch up with people that are away from college or just old, close friends," D'Amelio explains.
Indeed, this game has always been about bringing people together. To watch it grow from 8 people to an entire community who come to compete and also to watch their friends, neighbors, brothers, and family members, is a dream come true.
If I could interview myself, I would say that I am proud of how far we have come as a group. If you had told me that my dream of creating a game that feels like an actual NHL experience would come true within a matter of 8 years, I would have never believed it!
So, what really sets this game apart from any other group of 20-year-olds who show up at a public rink on a Saturday night?
First of all, there is so much more organization involved. The 20 stars of the night step out, dressed in their assigned team's colors, for a half hour pregame warmup that is accompanied by a playlist of songs to get the two teams and fans energized for a night of intense roller hockey.
Following the warmup, the teams are introduced. The players skate out to a song chosen by the team as if they were Paul Konerko stepping up to the plate to hit a Grand Slam.
The National Anthem is always set to succeed the introductions (except for that one time that we forgot to do the anthem, but we won't mention that because it was very unpatriotic), and sometimes, depending on the team names, the Canadian National Anthem must be played as well.
All of this takes place before the game even begins, before the time and score are kept, before the commentators play a faceoff song, and before a team scores a goal and a custom goal horn is played! That is when the real fun begins!
"The intensity in the game is amazing to see, and hockey is a great game to watch" Morini also adds.
The two teams battle it out for 60 minutes. There are bragging rights on the line. There is the hometown of Schaumburg on the line. There are celebrations on the line, but most of all, there is one hefty, shiny trophy on the line.
"Even though it's for fun I feel like I'm in the Madhouse," says D'Amelio. "Also, with the excitement and drive of everyone coming together on a beautiful Saturday evening game, and push to win the SHL Cup, I feel like I made it into my own type of NHL."
Once the game is over and the handshake line commences, there is a Stanley Cup to be given out and fireworks above the victors' heads as they take their celebratory lap around the rink.
Why would this apply to Harper students you may be asking?
There are multiple current and former Harper students that serve as integral parts of making the SHL what it is today. Alumni such as Josh Rivera, fellow hockey writer Johnny Aubert, Jaymil Patel, and many more. The league also has current Harper students such as Vince Cipolla, Dominick Criscione, and Brandon Schaar.
This year, the Lightning, led by Matt D'Amelio himself, are set to face a dominant Islanders team which includes former captain Anthony Morini.
Be there on Saturday, June 29that 7:30PM to see one of the biggest rivalry showdowns in Schaumburg history. Free hockey and a free fireworks show are a win-win! As Anthony Morini would say, "the best part is winning of course". You won't want to be one of the few that loses by missing out on the experience of the summer!
Leave a Comment
About the Contributor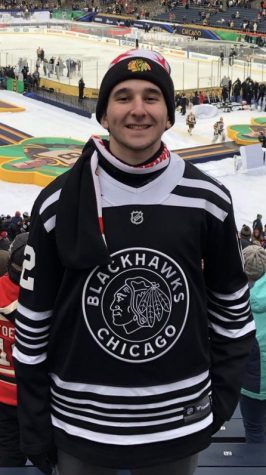 Mike Napoletano, Sports Reporter
Mike is studying Business and Communications. His superpower of choice would be to have Advanced Intelligence.