Letter from the Harbinger Adviser
Welcome to The Harbinger!
Exactly one year ago I accepted an offer from Harper College to become tenure track faculty and help revive a lost campus newspaper. In my interview I presented a plan with lots and lots of different ideas for the direction a campus newspaper could take. But what I knew for sure: I wanted to create community. In all the traditional ways, I wanted to help students love and appreciate the role a newspaper plays within an institution. I also wanted to create a space where students can be innovate in their thinking when creating content for the modern campus dweller.
Today, we have "turned on the lights" for a space hoping to accomplish that vision.
The Harbinger has had a tough past. Like a foster child, it's been shuffled from department to department, adviser to adviser with bare necessities over the past decade or so. Its had its share of challenges and controversy. Its hit hiatus after hiatus. It will always face an upward battle in balancing demand and journalistic integrity.
But the leaders of this campus knew it was time to turn to a new page. And I am incredibly grateful to them for their vision and wisdom in finally giving the Harbinger "a home."  You can find us in the new media lab in Building D– or "the west wing" as we lovingly call it.
Being new is exciting. The Harbinger staff is always excited! They are full of energy and have a vision and passion for storytelling. They were here over spring break working diligently to put this launch issue together for you. There were tears, sweat, some occasional "side-eye" and lots of snacking (we like to eat). As an adviser, I feel so blessed to see a team of fun, creative, and dedicated students take ownership of building this community–your community.
But being new comes with a learning curve (and sometimes an ignored "AP Style Guidebook"). There will be mistakes, risks gone wrong, periods of slow activity and sometimes things that make us mad. A good newspaper site should always make somebody mad, (for the right reasons) or we aren't doing our job.
We hope to grow at a steady pace and get better and bigger each year. We hope you can forgive us for the shortcomings and instead help us with solutions. The Harbinger's door is always open to feedback and suggestions. We want to hear from you.
We hope you'll show us your support by subscribing, following our social media and most importantly–participating. Send us your thoughts. Be a part of the conversation. Your voice has never mattered more. And of course, come create and build with us. We'll be in full swing in the fall and will need a talented staff!
We hope you enjoy your time on the Harbinger–which is mobile friendly.
Thank you and happy reading!
Sincerely, 
Maham Khan
Leave a Comment
About the Writer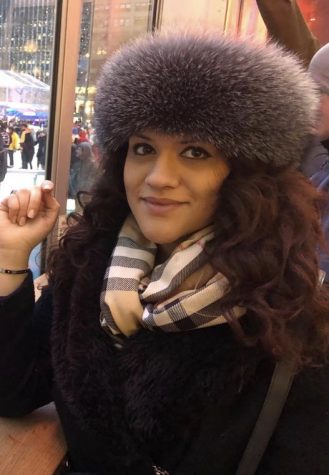 Maham Khan, Adviser
Maham Khan is the Adviser of the Harbinger and full-time faculty of Mass Communications and Journalism. Her superpower of choice would be to have a Wonder...