The best budget travel hacks for thrifty tourists
Today marks a special occasion — and no, it is not Taco Tuesday. 
The last Tuesday of every January is National Plan for Vacation Day!
Unfortunately, more than half of Americans do not use their paid vacation days, primarily due to the cost of traveling, according to a 2018 and 2019 online survey sponsored by the U.S. Travel Association. This is a shame considering all of the benefits that travel brings, such as improved physical health, better relationships and greater overall wellbeing. 
I believe that traveling is always more possible than you think it is: here's why. 
Many view travel as an expensive, luxurious getaway — but travel is not only reserved for wealthy retirees. There are SO many ways to explore the world with little money at any stage of your life. 
I've compiled the best budget travel hacks below, starting from the biggest expenses to the miscellaneous ones. 
Flights
Your plane ticket will likely be one of your biggest costs, assuming you're going abroad. But with a little extra work and flexibility, it doesn't have to break the bank. 
If you've never used a flight search engine, it's time to start. These websites do the work for you by scouring airfare prices across the airlines, then automatically providing the cheapest prices available. 
Try browsing on platforms like Skyscanner, Momondo or Google Flights; if you find a good deal, I recommend purchasing your ticket directly through the airline's website, versus any third-party websites, so it is easier to get support in case that you need it. 
Date flexibility (off season)
One of the main determinants of the cost of a plane ticket is not only where you fly, but when you fly. Even the change of a single day in your scheduled departure or arrival could mean the difference of hundreds of dollars. 
If you are flexible with your travel dates, play around with different days of the week to fly to see if prices go down. 
You will save even more money if you are willing to fly in the destination's off-season, or even shoulder-season. These are the times of year when tourism is lower than peak seasons, which are often, but not always, in the summer months. 
Flights on budget airlines, such as Spirit or Ryanair, will not always show up when you search up flights but they are typically much cheaper than flying a mainstream airline. Scott's Cheap Flights finds insanely low airfare, like a roundtrip ticket to Tokyo for $202, most often on budget airlines. 
The trade-off with budget airlines, however, is that they often include a layover or two, and there are excessive fees with bringing on more than the allotted luggage allowance. 
Accommodation
The other most expensive part of your trip will likely be where you are staying. Fortunately, there are numerous ways to cut costs and even eliminate them completely. 
I cannot rave enough about hostels. They are the main places where I stay, and I have been a guest in over 30 of them. 
As a solo female budget traveler, this is the best option to alleviate concerns of safety, loneliness and costliness. 
A hostel offers shared dorms that cost around $15-30 per night for 1 bed. It is similar to a college dormitory, where you also share common spaces with others. 
Although many people have shared their concerns with me about sharing a room with strangers, I feel much more comfortable knowing that at all times, there are other travelers and staff members around in case of an emergency, as opposed to an Airbnb, where there is no one else to help. 
Hostels are also the perfect place to meet new people, as there are usually shared social spaces and organized group activities. 
Learn more about staying in hostels here: https://gottacaseofwanderlust.com/2022/11/23/hostel-hacks-101/ 
A work exchange is an opportunity for any traveler to get free accommodation through various kinds of work. 
Responsibilities can include working in childcare, a farm, or a hostel. You can find opportunities across many countries and cities around the world. 
I completed my first work exchange in Kiruna, Sweden, where I stayed for free in a cabin doing a little housework.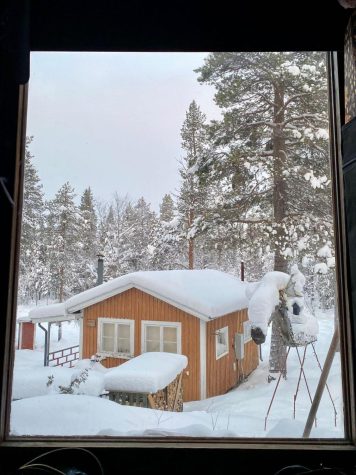 The most popular platforms to find work exchanges are Workaway and Worldpackers, each which require a small membership fee to apply. 
Learn more about doing a work exchange here: https://gottacaseofwanderlust.com/2022/11/28/gabby-boucher-on-traveling-without-money-or-a-plan/ 
Another way to score a free stay is to couchsurf, which is staying in a local's home. 
This option may be more difficult since it may require you to reach out to multiple potential hosts before you find a stay. I also advise solo female travelers to choose a host carefully by learning more about them beforehand and to never do anything that doesn't feel comfortable.  
There are several platforms to find a host, but the dominant one is Couchsurfing.com, with millions of users and hosts worldwide. 
Food
I admittedly spend way too much on food when I travel — I can't help it. Food is so good!
Trying local cuisine is one of the best ways to learn about the local culture; for this reason, I strongly encourage supporting small businesses and trying new foods rather than going to fast food chains. 
Local street food will also be cheaper than dining in restaurants frequently. For example, I found that a restaurant meal in Paris is around 20 Euros. But a crepe from one of the dozens scattered around the city is only about 5 Euros — and they are absolutely delicious. 
A major way to overspend on food when you travel is by eating in touristy areas. 
Restaurants in and around major attractions will be more expensive than restaurants a few blocks or neighborhoods away. 
I always try to discover the little "hole-in-the-wall" restaurants because they often serve higher quality food at lower prices. 
Check out the grocery stores
If you want to save the most money, buy food from local grocery stores and cook meals back at your accommodation. 
You can utilize the fridge and microwave in your hotel room or the kitchen in your hostel or Airbnb, instead of going out to restaurants constantly. 
It's also a smart idea to keep nonperishable snacks in your day bag, like a snack bar or a bag of nuts, in case you get hungry and don't want to spend money on food.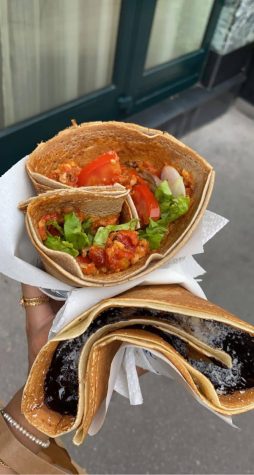 Activities 
One of my favorite activities when I'm in a new city is by joining a free walking tour. 
Major cities will usually have several companies that host 1-3 hour tours where a local will show you around the main parts of the city and talk about its culture and history.
Simply search "free walking tours in ____" online, or ask the staff at your accommodation for any recommendations. 
It is easy to become overwhelmed with seeing everything all at once on vacation, but don't feel pressured to visit every attraction if you aren't passionate about it. 
Personally, I love simply strolling through the streets of a city and taking in all the people and new sights. I find that setting aside at least one day to leisurely walk around without rushing to visit anywhere in particular, helps me become acquainted with the foreign atmosphere on a deeper level. 
Another completely free activity is by getting out into nature. 
Walking in a forest, hiking up a mountain, or relaxing at the beach are always budget-friendly excursions that can be a great way to decompress from the stresses that can accompany traveling or being in a city.
Yet another reason why you shouldn't wait to travel: student discounts. 
Before you book anything, double-check to see if there's any discounts for students or individuals under a certain age.  There are often cheaper tickets for museums, local attractions, or transportation if you are a young person — sometimes it's a 50% reduced price!
For example, a 1-month global Eurail pass, which allows you to travel by train between countries in Europe, costs $956 for an adult, but only $717 if you are under the age of 27. 
___________________
That wraps up the ultimate list of budget hacks to travel when you are a broke college-student, like me.  
Traveling is truly more affordable than you think — it's just a matter of priorities, research, and time. Though you may not have all the money in the world, you have the most time that you'll ever have. So if travel is a dream, I urge you to now make it a goal. 
View Comments(1)