World Cup 2022: An intro for newcomers interested in joining the Recreation Center watch parties
After a grueling 90-minute battle between France and Croatia in the 2018 World Cup finals, Croatia eventually fell, declaring France the 2018 World Cup winners. Four years later, the world heads to Qatar to see who will stand victorious in 2022, with Team USA competing in the games for the first time since 2014. Being ranked 16th with a record of 5-3-4, can they follow the women's national team and bring a world cup back to the states?  
From November 28 to December 16, the Health and Recreation Center here at Harper will be hosting Qatar 2022 watch parties (games times and dates are to be determined), as well as a FIFA gaming tournament on November 29 at 1pm and Foosball 2v2 tournaments on November 30, December 5 and 13 from 1-2 p.m. All are welcome to join – and, for those who haven't watched a World Cup before, here's a primer on how it all works:
For Qatar 2022, 32 teams will compete in groups consisting of four teams each. This is called the group stage. The 4 teams are determined by a lottery. Each of the four teams will play the other three teams in the group. The top two from each group will move onto the next round. The rankings are determined by a point system: three points for wins, one point for draws and no points for losses. Then, the 16 remaining teams will compete in a single elimination bracket, leading to the quarterfinals.. Third place will be determined by a game between the losing teams in the quarterfinals, while the winning teams move on to play the finals.
In order to qualify for Qatar 2022, each of the 32 teams had to play in regional tournaments. Team USA played in Concacaf (Confederation of North, Central America and Caribbean Association Football) alongside Mexico, Canada, Costa Rica, Panama, Jamaica, El Salvador and Honduras, with Canada (6-1-0) Mexico (4-3-0) and Team USA (6-1-0) ultimately taking the qualifying spots. 
On the field at any given time, a soccer team will have 11 players, consisting of one goalkeeper, defenders, forwards and midfielders. There are no rules that restrict where a player can be at any given point. The match is 90 minutes in total, played in two 45-minute periods with 15 minutes for half time. 
Penalties in soccer can be a bit confusing to newcomers – so let's break it down. There are yellow and red cards. Yellow cards are issued as warnings, and if a player is issued two of them, they get a red card and are ejected from the game. In the case of a red card, a team can't replace their ejected players on the field, so a team of 11 will be left with 10. Now you have direct and indirect free kicks! These are awarded in a wide variety of situations, such as goalies committing penalties or if an opponent is playing in a dangerous manner, just to name a few.
Stay tuned for more World Cup coverage on the Harbinger!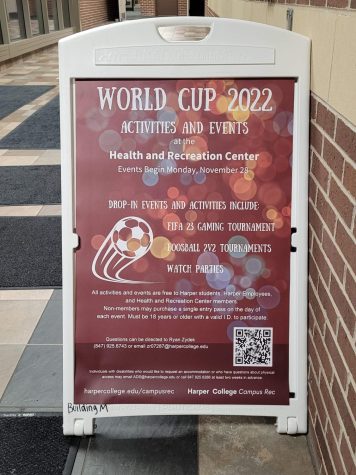 Team USA Schedule Group Stage: 
USA vs Wales: November 21 1:00 pm
USA vs England: November 25 1:00 pm
USA vs Iran: November 29 1:00 pm 
All 32 Teams:
Qatar 
Ecuador
Senegal
Netherlands
England
Iran
USA
Wales
Argentina
Saudi Arabia
Mexico
Poland 
France
Australia
Tunisia 
Spain
Costa Rica
Germany
Japan
Belgium
Canada
Morocco
Croatia
Brazil
Switzerland
Serbia
Cameroon
Portugal
Ghana
Uruguay
South Korea
View Comments (1)