Student Engagement hosts APIDA Heritage Month event
The record-breaking heatwave outside did not stop the Harper community from lining up on the quad for free boba drinks on Wednesday, May 11, 2022, from 11 am to 1 pm. 
Free henna tattoos by a professional artist and Chinese character writing by a Harper student accompanied the popular Taiwan originating drink for a celebration of Asian Pacific Islander Desi American (APIDA) Heritage Month.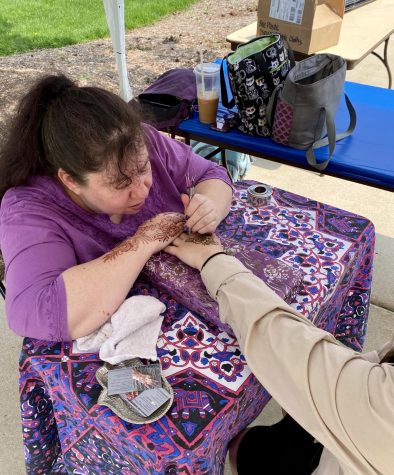 The event, which was sponsored by Student Engagement, had been in development since the beginning of the semester. 
Melanie Duchaj, the Student Engagement Coordinator, expressed that this event was intended to both represent and celebrate students who identify with the APIDA community, as well as increase students' global consciousness of Harper's diverse student population. 
"I love learning about other cultures and I love that other people want to learn about my own," commented Khushi Gandhi, a first-year student who assisted at the henna tattoo booth. 
Gandhi stressed that part of accepting and embracing cultural diversity means having an open mind and learning as much as you can. 
First-year Harper student Ririko Tsujimoto, who was born in Japan, offered a tip to be more open-minded: "Remember that even if it looks unusual, for that particular person, it may not be unusual." 
May is an ideal time to develop more cultural intelligence as APIDA Heritage Month was created to celebrate the histories, identities and cultures of individuals from all parts of Asia and the Pacific Islands. 
According to NPR, the history of APIDA Heritage Month traces back to 1978 when two members of the House of Representatives introduced a bill that celebrated Asian Pacific Americans during the first week of May. 
President Jimmy Carter signed it into law on October 5, 1978. 
The commemorative week ultimately expanded into a month after a bill passed in Congress and signed into law by George W. Bush in 1990; however, it wasn't until two years later that the legislation officially included May as the annual designated month, rather than needing a reauthorization every year. 
May is significant in APIDA history because it pays tribute to the first immigration of Japanese Americans to the United States on May 7, 1843, and it also marks the anniversary of the
completion of the Transcontinental Railroad on May 10, 1869, which was constructed mainly by Chinese immigrants. 
At Harper, 14% of credit-enrolled students identified as Asian in fall 2021, based on the 2021-2022 Fact Book found on Harper's website. 
Though this is higher than many other colleges, Lily Sun, a first-year student who came here from China three years ago and ran the Chinese calligraphy booth, said that in her experience, she hasn't seen many Asians during her time at Harper.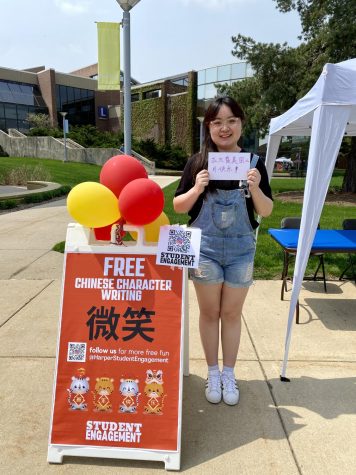 Sun shared that this event made her feel more embraced by Harper, and she appreciates how events like this bring greater awareness to her culture. 
She hopes that in the future, there are more events like this. 
As the school year comes to an end, there will be an upcoming Holi Celebration with guest Ms. Ajanta, a bestselling author, held in the Cultural Center on Thursday, May 12 at 5 p.m., and it is open to the students and their families. 
Leave a Comment