Pride Club hosts "Trans Tea Time" on International Transgender Day of Visibility
The Office of Diversity, Equity, and Inclusion and Pride Club coordinated their very first "Trans Tea Time" in honor of International Transgender Day of Visibility in the Cultural Center on March 31 from 2-3 p.m. 
About 10 students socialized and enjoyed green tea and various snacks. 
According to co-advisor of Pride Club and associate professor of English Dr. Andrew Anastasia, Pride Club members initially talked with the Cultural Center staff about creating a space for transgender and gender non-conforming folx. 
Manager of the Cultural Center Brittany Barber suggested having a dedicated meeting time and space for gender non-conforming students, and Dr. Anastasia himself was the one who proposed kicking off the meetings on International Transgender Day of Visibility. 
Sophomore and President of Pride Club Mitchell Ryba hoped the Trans Tea Time helped broaden students' knowledge of the LGBTQ+ community.
"Although I am not trans-identified, being someone who is in the LGBTQ+ community, the whole thing I want to take away from this is learning, so I hope other people also take away that learning aspect," Ryba explained. 
Dr. Anastasia stated that the "Trans Tea Time" meetings will be ongoing. 
"I think it's really important that trans-identified students and gender non-conforming students have a dedicated space to come and feel like they can bring their full selves onto campus and into a safe space," Dr. Anastasia said. 
As a trans-identified man who didn't have any trans or gender-nonconforming professors that he knew of when he was a college student, it's important to him that Harper students get that kind of support. 
Additionally, Dr. Anastasia shared that he has a nephew and a niece who both identify as trans. His nephew lives in a state that has a high possibility of passing a law that could target parents and professionals for helping trans youth access gender-affirming healthcare, similar to the one proposed in Texas in late February.
Having acknowledged that approximately 244 anti-LGBTQ+ bills have been filed for consideration in 2022 alone, he said the thought that his nephew could encounter such a bill "keeps me up at night."
"As a trans person, if somebody had denied me gender-affirming care, I don't know if I'd be here talking to you [The Harbinger]," Dr. Anastasia stated. 
He advises trans and gender-nonconforming students to not internalize negative comments about the LGBTQ+ community.
"Don't believe the hate," Dr. Anastasia said. "Because it's all around you, it can be so easy to just hear all that negativity and think that you are not worth being loved and cared for, and that's just absolute garbage."
Dr. Anastasia recommends trans and gender-nonconforming students who are looking for support reach out to the Office of Diversity, Equity, and Inclusion, Pride Club and the Cultural Center. He said staff in these organizations can help put students in touch with legal counseling, resources for name changes and more. 
He also pointed out the Kenneth Young Center, which can help trans and gender-nonconforming folx receive social-emotional support as well information about scholarships and legal resources. 
Dr. Anastasia said that the "Trans Tea Time" provided a safe space for students and mentioned the resources and support Harper currently offers to students.
However, not all members of Harper's LGBTQ+ community are pleased with current efforts to create awareness. Student Jonah Parra feels that Harper isn't doing enough to support the trans community and is frustrated with the school's lack of communication about events such as this one. 
 "…They had the Trans Day of Visibility, an event that I was unaware of until today [April 12] after the fact. And I check my email every day," Parra stated.  "And as a trans person, that's kind of problematic and maybe counterproductive to the activity that was in place."
They also noted that Harper should take more steps to support students monetarily by providing scholarships to trans students.
"I just feel that Harper makes a big effort to come across a certain way by promoting their support of marginalized groups," Parra said. "However, I have not seen any real action taken to help these groups."
Parra felt that Harper must do better to vocalize their support for students by openly denouncing discriminatory policies, such as the anti-LGBTQ+ orders occurring in states like Texas and Florida.
"I think any time that students are affected in the United States and Harper doesn't align with those things, they need to put out a statement saying that they're against it," Parra said. "Because if Harper does not support their students, then students should consider going somewhere else."
Leave a Comment
About the Contributor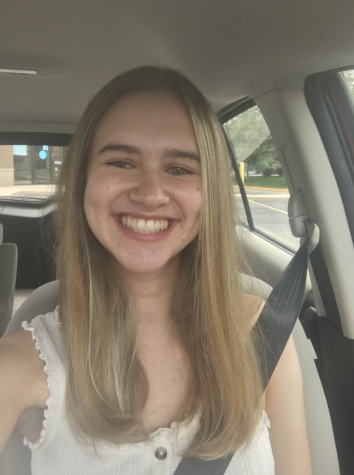 Adriana Briscoe, Editor-in-Chief
Adriana writes feature stories, news stories and editorials for The Harbinger.