A Sports Lover's Tribute to the Greatest Black Athletes that have Contributed to their Sport and a Cause
As an avid sports fan, one of the most rewarding things to see is how sports bring people together. Seeing players from different backgrounds and cultures is a joy and without many of them, we would have been deprived of some of the most inspiring and talented stories. Here is a look at my favorite Black Athletes in each of the 5 major sports!
Jackie Robinson

Jackie Robinson playing for Branch Rickey and the Brooklyn Dodgers in 1947. (Photo courtesy of The American Prospect)
Jackie Robinson was born in Cairo, GA on January 31st, 1919. At a time when only White men were allowed to play baseball, Robinson was determined to be the best baseball player he could be. He played four sports at UCLA (Baseball, Basketball, Football, and Track) and was the first athlete to be awarded varsity letters in 4 sports. Jackie Robinson started his professional baseball career in the Negro League with the Kansas City Monarchs in 1946.
After only 1 year in the league, word of Jackie's talent got to Brooklyn Dodgers president Branch Rickey who wanted Robinson to play for his club. Major League Baseball had not had an African-American player since 1889 before the league became segregated. Jackie Robinson would soon break the color barrier in professional baseball, but the road ahead was no where near easy.
He endured multiple forms of racism and hatred from White fans, players, coaches, and even some teammates. Jackie and his family, as well as Branch Rickey would receive death threats from racists and white-supremacist groups. Despite the animosity towards him, Jackie Robinson would never retaliate; he would, in turn, show that he belonged in the sport of baseball with his talent and love for the game which would soon earn him the admiration of his peers and minority athletes everywhere.
Jackie Robinson is one of two athletes to have his jersey number (42) retired league-wide in his sport. The other player being "The Great One" Wayne Gretzky (99) in hockey. Jackie Robinson passed away on October 24th, 1972, but his legacy lives on. He was inducted into the Baseball Hall of Fame in 1962. There have been books, songs, and movies written about Robinson, and today, players of all colors fill the MLB thanks to his many sacrifices. Those players are grateful to Jackie for opening the doors for them to have a professional career of their own in the sport that they love.
Willie O'Ree

Willie O'Ree playing for the Boston Bruins of the National Hockey League (Photo courtesy of the Hockey Hall of Fame)
Known as the "Jackie Robinson of ice hockey", Willie O'Ree broke color barriers of his own. O'Ree was born on October 15th, 1935 in Fredericton, New Brunswick, Canada. He started playing hockey at only 3-years-old and immediately fell in love with the sport.
On January 18th, 1958, O'Ree was called up to the Boston Bruins to replace an injured player. There was less of a color barrier in professional hockey than years prior in professional baseball, but systemic racism was still prevalent in America. At the time, 4 of the 6 NHL teams resided in the United States.
His NHL debut was not mentioned in any of the major news sources in the U.S., and one Canadian sportswriter even wrote that O'Ree "was greeted with no emotion, no applause and, above all, no animosity."
Some of this was due to the fact that O'Ree has played for the Quebec Aces, a minor league team, so Canadians were already familiar with O'Ree. In 1956, O'Ree was playing for the Kitchener Canucks when a puck struck him in the face breaking his nose, his cheekbone, and as a result, he lost 90% of his vision in his right eye. He kept his partial blindness a secret because he knew that the NHL wouldn't allow him to play for safety reasons, but he was determined to play in the big leagues.
O'Ree was inducted into the Hockey Hall of Fame in 2018, and he would have been inducted sooner, but many people gave the same answer when asked if he should be entered into the Hall:
"I thought he already was [in the Hockey Hall of Fame]."
O'Ree still gives back to the hockey community today by supporting Hockey is for Everyone, a program that introduces the sport of hockey to underprivileged children and minority children across the U.S. and Canada. ESPN just released a documentary about O'Ree titled Willie and I encourage everyone to watch it and learn about this amazing human being!
Michael Jordan/Kobe Bryant
It would be a mistake to exclude Michael Jordan from this list after living in Chicago all my life, but with the tragic, premature passing of basketball icon Kobe Bryant being so recent, it would be wrong to exclude his accomplishments as well. Bryant and Jordan were both basketball legends and although they were always adversaries on the court, they were good friends off the court.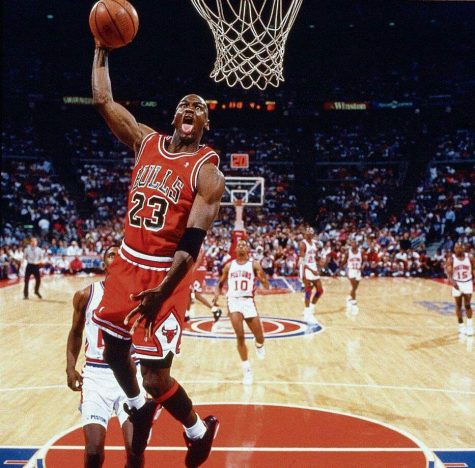 Jordan played for the Chicago Bulls for the majority of his career and was widely known as the best player in basketball until Kobe and many others followed in his footsteps leaving the topic up for debate. Jordan won 6 NBA titles in Chicago which consisted of 2 "3-peats" (1991-93 and 1996-98).
Jordan then went on to own the Charlotte Hornets who play in the same state as North Carolina, his alma matter. Jordan's partnership with Nike resulted in some of the most popular shoes in the world.
He was a multisport athlete as well. Jordan played baseball and ended up playing 2 games for the Chicago White Sox. Although, his baseball talents failed to usurp his basketball skills, becoming a professional in multiple sports is still a feat that very few can say they have mastered.
Jordan is also known for his impossible dunks from the free-throw line, and always sticking his tongue out whilst suspended in mid-air. Michael Jordan is definitely one of the greatest athletes as he was inducted into the Basketball Hall of Fame in 2009 and his awe-inspiring mark was forever engraved on the sports world.
Kobe Bryant played his entire 20-year professional basketball career with the Los Angeles Lakers. He won 5 NBA Championships including 1 '3-peat' (2000-02) and also back-to-back in 2008 and 2009. In addition to his NBA Titles, Bryant won 2 Olympic Gold Medals with Team USA Basketball in 2008 and 2012.
He is known to many by his nickname "Black Mamba" and Mamba Mentality was the slogan given to him for his driven mindset, focus, and competitive attitude. He carried himself professionally on and off the court and was respected by people all around the world and from all walks of life.
Kobe Bryant loved 2 things over everything else: his family, including his daughters, and the game of basketball. He did everything he could to give back to his sport and most of all his daughters. He started his own league called the Mamba League to give kids the opportunity to learn and share the sport that he loved so that they could develop their own love for basketball. It brings me to tears knowing a man with such a good heart and his eldest daughter whom he loved so dearly, are no longer with us.
This past January, Kobe and his daughter Gianna, as well as 7 other people, were killed in a helicopter crash in California. He passed away before he was eligible to be inducted into the Basketball Hall of Fame, but you can be sure that he will receive a unanimous vote when the time comes.
Although Kobe Bryant was taken from us well before his time, his legacy lives on and the impact he made on the game of basketball will never be forgotten.
Rest in Peace Kobe.
Walter Payton
"Sweetness", as many would come to know him by his nickname, was born on July 25th, 1954 in Columbia, Mississippi. In his college career at Jackson State University, Payton was named the Black College Player of the Year 2 years in a row (1973 and 1974). He was known for his phenomenal football skills, but many do not know as much about his generosity off the field. Payton gave back to the community by working closely with and educating deaf people.
On the field he was very competitive and always played with passion. He was characterized as one of the most versatile players in the game of football. When he played for Jackson State, he was a halfback, but when the Chicago Bears signed him in 1975 he played running back. Walter Payton played for the Bears for his entire 12-year NFL career. Within that time the Chicago Bears defeated the New England Patriots in January of 1986 to win the Super Bowl and Sweetness was a crucial piece of that team.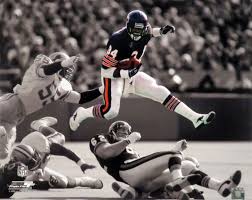 Number 34 also went on to win league's Most Valuable Player prior to the championship in 1977 and he earned 9 Pro Bowl selections. To this day he owns the NFL record for rushing yards with 16,726 yards total in his career. Payton was inducted into the Pro Football Hall of Fame in 1993 and also the College Football Hall of Fame just 3 years later.
He started the Walter Payton Foundation which focused on raising awareness for organ donations and urged people to give back and become donors. Sadly, Walter Payton was diagnosed with sclerosing cholangitis in 1999. With this condition, bile ducts become blocked more frequently which lead to cholangiocarcinoma, or otherwise known as bile duct cancer. He raised awareness for the disease before passing away in the same year.
His wife Connie has taken over the foundation's mission and uses it to help veterans and children. Brittney has become quite the popular figure in Chicago as well. She has been on numerous episodes of the food critiquing show Chicago's Best as well as sports shows covering the Chicago Bears, the team that Walter Payton called his home for his entire, impressive NFL career.
Walter Payton's legacy lives on here in the hearts of Bears fans, in the city of Chicago, and the entire football world.
Pelé
Edson Arantes do Nascimento was born on October 23rd, 1940 in Três Corações, Brazil. Better known as Pelé, he is known as one of the most famous and arguably the best soccer player in history. Messi and Ronaldo might be famous these days, but Pelé set the stage for them years prior with his amazing footwork and stunning speed.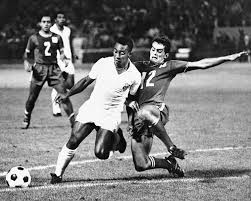 Pelé made his professional debut in 1957 at the age of 16-years-old! He won 3 World Cup Championships while playing for the Brazilian National Team (1958, 1962, and 1970). For as famous and as talented as Pelé was, he was actually rejected by multiple club teams in the city of São Paulo. After going on to win 9 São Paulo league championships with the Santos Football Club, those teams probably had some deep feelings of regret for passing up on such a superstar.
He and his club also captured the 1962 and 1963 Libertadores Cup and Intercontinental Club Cup. Pelé played in 14 World Cup games and racked up a total of 12 goals in those 14 matches.
Pelé also had a great reputation off the field as well. He traveled to Nigeria with the rest of his team in which a 48-hour cease-fire was allowed in their civil war to permit both sides to watch the remarkable athlete play. Years later Pelé was awarded the International Peace Award and in 1980 he earned Athlete of the Century by the International Olympic Committee.
Pelé retired in 1974, but in 1975, he returned to the game by signing a contract with the New York Cosmos of the North American Soccer League. He lead them to a championship just 2 years later.
Just like Jackie Robinson and most of the others on this list, Pelé had had multiple movies and documentaries dedicated to him. He is also the author of several auto-biographies and even composer of multiple songs that were used in the movie dedicated to him in 1977.
Pelé was named a national hero and a national treasure by the Brazilian Government and for good reason too! It is safe to say that he has inspired many of the greatest soccer players for being the most talented player in the most popular sport in the world!
Each of these athletes has earned my respect and admiration as well as the respect and admiration of their respective sport's world. The commonalities between each and every one of them extends further than just the color of their skin; they have all inspired generations of athletes of all colors after their time and each. Every one of the players on this list have used their platforms that their sport had given them to give back to the world, outside of the playing field, in an attempt to make it a better place for everyone. Each of these athletes is a also a hero and a figure that everyone can look up to no matter what race or sport you play!
For More information on some of these athletes, please follow the links provided below.
https://www.jackierobinson.com/biography/
https://www.britannica.com/biography/Willie-ORee
https://www.biography.com/athlete/walter-payton
https://www.britannica.com/biography/Pele-Brazilian-athlete
Leave a Comment
About the Contributor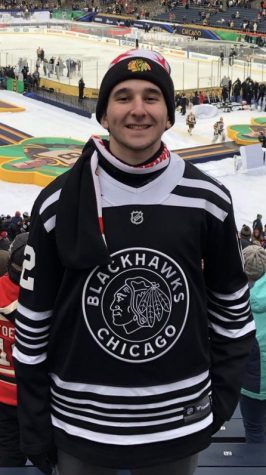 Mike Napoletano, Sports Reporter
Mike is studying Business and Communications. His superpower of choice would be to have Advanced Intelligence.