Harper Hawk Sports Rise During Fall
The changing of leaves brings the changing of sports here at Harper. Hawk athletes will transition from the fields to the courts, and after having snow as early as Halloween, most people are not going to complain about the shift indoors. Before we rush to the gym for the upcoming Winter sports, let's take a look at how the Hawks fared on the fields this Fall.
The Men's Cross Country team had a great season that was highlighted by a lot of personal efforts. Alan Douglas had a 1st place finish with a time of 28:27.70 on October 29th at the Region IV Championship! In that same race, Harper's Scott Williams took 2nd place finish with a time of 28:50.50, Vincente Perez placed 3rd (28:59.60), and Ryan Ziolkowski placed 4th (29:11.70). Ziolkowski had another 4th place finish in the Harper Invite on August 27th with a time of 16:51.85. It happened to be the first time in 8 seasons that Harper's Men's Cross Country team did not take first overall in the Region IV Championship despite some of those stellar, aforementioned individual efforts.
Women's Cross Country had a great season as well. Ali Gutt had three 1st place finishes at the Harper Invite (12:19.24), the Benedictine Invite (22:45.00), and the Region IV Championship (19:39.90). Gutt also placed 2nd twice at the Aurora Invite and the Bradley Classic with times of 12:19.24 and 22:21.00 respectively. The female Hawk runners also outran the competition in the Region IV Championship. Bree Bogucki placed 3rd (21:16.70), Natalie Cook took 4th (22:02.30), and Katie Thevara finished in 5th (22:11.50). 
Both the men and women Hawk runners dominated the competition at Stanley Park on November 2nd in the 2019 NJCAA D3 Championship! The women strongly took 2nd place overall out of 10 teams in their 5K race while the men placed 3rd overall out of 28 teams in their 8K race. Phenomenal job runners and we can't wait to see some of you in action in the Spring for Track & Field!
Harper Hawks Women's Volleyball was off to a slow start in August when they lost their first 4 matches at the McHenry County College Invitational. The Lady Hawks quickly turned things around by winning their next 3 sets en route to their first win of the season against Madison College on August 29th. Since then, Women's Volleyball has gone undefeated in the conference with a record of 12-0 and an overall record of 23-21 which puts them at a percentage of .523 on the season. On November 2nd, the women dictated the match in the Region IV Semifinals against Joliet Junior College by winning 3 straight sets. They went on to do the same thing in the Region IV Championship against Rock Valley College. Three Harper Hawks were named to the All-Region Tournament Team including Middle Hitter Rachel Kandefer, Libero Jules Carusiello, and Setter Taylor Pfaller. The NJCAA National Championship Quarterfinals were postponed on November 14th, but expect the Harper Hawks to serve it to the competition in Minnesota to end their season on a high note!
Harper Men's Soccer was stellar this past season! The boys in blue were bossing it out most matches and really enjoying themselves in most games. They finished 15-2 on the season and 10-1 in conference matches. They finished the season with 40 goals in only 19 games! The highlights of the season were defeating Milwaukee Area Technical College 8-0 and 12-0 in the two times that the teams met, and also eliminating Illinois Valley in the Region IV Quarterfinals and Madison in the Region IV Semifinals. Men's soccer fought hard in the Region IV Championship, but fell 2-1 to Triton College in a match that took both halves of Extra Time to decide the winner. Sophomore forward Majeed Hassan played all 17 games and had 12 goals and 3 assists for a total of 27 points. Goalkeeper Alan Alfaro finished the season playing 13 games and saving 24 shots and only allowing 4 goals against.
Women's soccer struggled to find their footing early in the season. Their inconsistency at the start of the season lead to a 6-game skid to close out the season. It was a rough ride for our women who finished 3-11 overall and 2-8 in conference. Goalkeeper Esmeralda Serna backstopped the Lady Hawks 14 times and made a whopping 149 saves on the season. Midfielder Morgan Ragusin finished the season with 6 goals and 3 assists in 14 games for a team-best 15 points. Despite the grand efforts from these ladies, it just wasn't quite enough to compete for a playoff spot. The women are looking forward to a better season next fall and are hungry to get back into the playoff chase.
Winter is now upon us and unless you are ready to lace up some skates and put on a parka, Harper sports will be moving inside. Be on the lookout for Men and Women's Basketball that began in early November. In addition to basketball, Hawks Wrestling will be hitting the mats this winter! Stay tuned for more exciting news and updates coming soon from the sports world here at Harper College!
Leave a Comment
About the Writer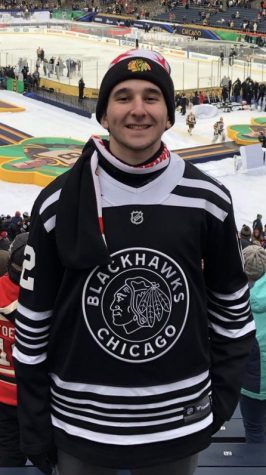 Mike Napoletano, Sports Reporter
Mike is studying Business and Communications. His superpower of choice would be to have Advanced Intelligence.