Farewell to Dr. Ender: A quick Q&A with the President on his way out…
On April 17th, a friendly horde of food trucks drew crowds of students to gather and take advantage of the free food from Harold's Chicken, La Cocinita, and Ms. Tittle's Cupcakes, among others. If you weren't there, you missed out!
The food truck party was organized to celebrate Dr. Ender, the president of Harper College, who is retiring this year.  Dr. Ender is leaving Harper after 10 years. For many who describe his years of service, it makes perfect sense that he would choose to feed students and staff for his farewell. Through his tenure he has done just that–fed this campus with initiatives, expansion, scholarships and literally–food.  The campus Subway, Starbucks, and Farmer's Fridge were all brought in under his leadership and a food pantry was also established to help hungry students in need.
But it's not only subs and Frappuccinos that nourish Harper's community, Dr. Ender championed many other significant programs during his administration.
2015 brought the massive renovation of the Career and Technical Education Center in Building H and the Harper Promise Program. In 2016, the newly renovated Building D opened and Harper won the Leah Meyer Austin Award for excellence in creating policies, practices, a culture of equity, and student success.
The 50th Anniversary Gala in 2017 raised $1 million for the Harper Promise Program and both our state-of-the-art David K. Hill library and the Foglia Foundation Health and Recreation Center opened in 2018.
In light of these accomplishments, which, rest assured, Dr. Ender has already answered plenty of questions about, the Harbinger decided to ask him some more "retirement spirited" questions. 
But first, more food…
Q: If you could bring one new restaurant to campus what would it be?
A: "I would bring a really tasty and reasonably priced Vietnamese restaurant. I think that their soup could feed the world forever. I think that if students have not been exposed to that type of food, they would love it."
Q: Most embarrassing moment at Harper?
A: "It's always embarrassing when your executive team leaders have to remind the president to zipper up."
Q: What is your go-to Starbucks order?
A: "I never order anything more than coffee. Just give me a cup of coffee, the way it comes right out of the pot."
Q: What is your go-to Subway order?
A: "Tuna on Italian bread with lettuce, tomato, onions, sweet peppers, dill pickles, Italian seasoning, oil and vinegar, green peppers, and extra pickles. I'm gonna have one today."
Q: Celebrity crush?
A: "I don't know… I probably had a crush on the girl from the Mickey Mouse show a hundred years ago, Annette Funicello."
Q: Favorite place on campus? Why?
A: "The woods and the cross country course on the other side of the pond. I go out there a lot in the wintertime, it's quiet in the middle of all this suburbanization."
Q: Guilty pleasure?
A: "Well, chocolate for sure. A very, very rare single malt scotch…coupled together would be nice."
Q: If you could be president of the U.S. for a day what would you do?
A: "I would make post-secondary education a public good and pay for it."
Q: One thing you'd change about Harper?
A:"I would find a way for more students to be able to stay on campus to engage in things other than just their classes."
Q: What do you wish students knew about you?
A: "That I'm a product of the experience I hope they're getting. I'm the first of my family that went to college, I was lucky I didn't flunk out. If it hadn't been for a lot of really good staff and faculty I probably would've. It was in college when I really learned who I was and how I was unique as an individual. I'm an identical twin, and when you're identical twins people treat you as a pair because a lot of folks can't tell you apart. Figuring out how to find myself was a struggle for me, and college helped me do that."
Q: What musical artist/act would you want to come to perform at Harper?
A: "Marvin Gaye, and I wouldn't mind having Paul Simon come."
Q: Where do you plan to travel once you retire?
A: "Well, I'm going to retire for six weeks and then I'm going to work for North Carolina State University as a professor of practice in their graduate school of education. So for those six weeks, we're going to get in the car with the dog and the grandson, head south and east, and do whatever we decide to do every day when we wake up. That's the plan. After this next stage of my work life is over I would like to take a river cruise, go up to Alaska, go to the Caribbean, and spend more time in Europe."
Q: Advice for a student who wants to have your job one day?
A: "First of all, make sure you get all the credentials stamped; you have to finish your Associates, Bachelors, Masters, and your Ph.D. Then they can't tell you that you can't apply because they usually require all those credentials. I would say work at as many different institutions as you can, just get as much experience with different things. If you can when you're a graduate student, work in a residence hall managing young people living together. That's a great training ground for a president because all kinds of terrible things happen that you can't prepare for and you have to manage. And don't be afraid to move. If you want to advance yourself and finally arrive at Harper, you probably ought to be in a lot of different places before you make that move.
The Harbinger would like to thank Dr. Ender for his years of service and for breathing new life into The Harbinger, a much needed student publication. Thank you. Oh, and thank you for the free food too!
Leave a Comment
About the Contributor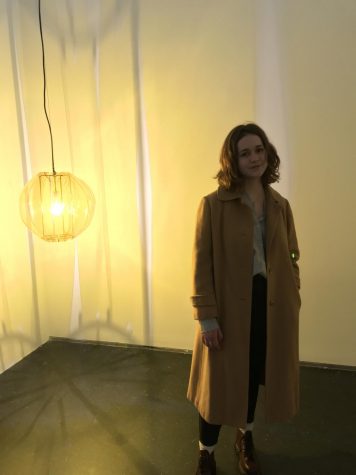 Izzy Reno, Reporter
Izzy is majoring in Sociology and is interested in studying linguistics and anthropology. Her superpower of choice would be the ability to read minds.