Local Lutheran school navigates the challenges—and blessings—of reopening  amidst the COVID-19 pandemic 
The only barrier between students and a sense of normalcy this school year is six feet and a  shower curtain. 
Amidst the gradual recovery stages of the coronavirus pandemic, Immanuel Lutheran School in  Palatine opened its doors for in-person learning in August. 
Back in March, Gov. Pritzker's order to shut down both private and public schools led to two months of remote learning for Immanuel students. Since then, many surrounding public school  districts have opted to begin the year solely with remote learning. 
The decision to offer in-person learning was not an easy one, and there were many factors to  consider.  
"The first biggest challenge was deciding to open up and to understand the perceptions that  were out there," Immanuel's Senior Pastor Warren Schilf said. "We felt that we were small  enough that we could maintain social distance and be safe enough." 
Two major challenges followed—the environment needed to be safe, and the parents and  students needed to trust that the school was safe. 
Immanuel collaborated with multiple health organizations to ensure that the new procedures  and practices aligned with guidelines and would be effective in keeping all students and faculty  healthy. 
"We decided to move forward boldly but confidently, and we spent the whole summer  planning," according to Principal Joy Mullaney, who is in her first year at Immanuel. "Our plans  are all fluid at this time, and we are always ready to improve."  
Prior to the start of each school day, masked and gloved volunteers take each child's  temperature. All students and staff are required to wear face coverings in the building, and the  majority of parents are not allowed into the building during the school day. 
The need for creativity and versatility has become increasingly necessary in order to abide by  state social distancing guidelines. In the larger elementary school classrooms, student desks are  spread apart throughout the room, and teacher desks and podiums are equipped with plexiglass shields. 
In middle-school classrooms, students used to share tables and sit closely for collaboration; now, however, spare classrooms once used only for electives–are instead utilized to break up larger classes. Distance between students is increased, and clear plastic dividers consisting of PVC pipe and shower curtains are installed at each table.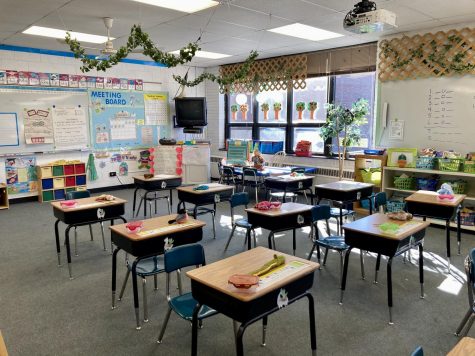 At lunchtime, students will either stay in their classrooms or sit outside rather than co-mingling  in the cafeteria. Students are required to bring their own lunch from home, and the lady that  has prepared lunches for 30 years is now tasked with sanitizing doorknobs and surfaces  throughout the building. 
Gym uniforms are crossed off of the school supply list this year in order to eliminate the risks  associated with the close quarters of the locker room. Socially distanced gym classes are held  outside each day as weather permits, and it provides one of the few chances students have to  remove their masks.  
"A lot of what we do is outside, because when you're outside, you don't need a mask. We do have  opportunities for mask breaks," Dr. Mullaney said. 
During weekly chapel services held in the church sanctuary, pews are marked to indicate where  students are allowed to sit in order to be safely distanced from one another, and seating now  overflows into folding chairs in the narthex. 
Just as the school has made countless adjustments, the church has also updated protocol in  order to open its doors for worship. Masks are required, along with advance reservations to  meet the guidelines for reduced capacity directives, and Communion is served in sealed  containers at the end of one-way aisles, while everyone maintains proper social distancing in  line. 
"There are some things we needed to give up, like talking to one another inside, shaking hands, hugging, and we removed the hymnals and the Bibles," according to Pastor Schilf. 
In addition, Immanuel's award-winning athletic programs have been modified or placed on hold  in order to comply with Gov. Pritzker's guidelines regarding contact and competitive sports. 
Not only are day-to-day activities modified, but cleaning procedures have been enhanced as  well. High-touch surfaces, including door handles, student desks, and church pews are  disinfected frequently after use. 
In order for Immanuel to truly be open, however, it was necessary for families to feel that  attending school was the best choice for them.  
Through the beginning of summer, as the threat of returning to e-learning loomed, numbers had become dangerously low, to the point that some staff worried that the school's 150th year could  be one of its last. But then, around mid-July as the local public schools released their decision to remain closed, enrollment skyrocketed. 
Dozens of phone calls and inquiries poured in each day, classes began to reach capacity, and  wait lists were enacted. 
"That is all I did," said Linda Stammer, Admissions Coordinator and School Secretary, when  discussing changes in her day-to-day tasks as enrollment rose. "The phone calls, the tours, the  paperwork for admissions…anything else I needed to do had to get done later. My days were a  lot longer." 
The sudden surge in enrollment led to some growing pains for Immanuel staff in their final  stages of summer preparations. Volunteers spent many hours moving furniture, reconfiguring  classrooms and finishing summer projects just days before the first day of school to ensure that  Immanuel was ready to welcome a large wave of new students.
"The whole situation is very bittersweet because, yes, we're getting all these new kids and new  families in but, on the other hand, it took a pandemic to get them here," Mrs. Stammer said. 
Accommodations had to be made for larger classes, the largest being the eighth-grade class with  32 students. In order to keep students safely distanced, the class is split into two separate  classrooms. The teacher teaches students in person in one room, and the other half of the class connects via a webcam.  
The majority of the phone calls with inquiries about enrollment came from families that believed  that the benefits of in-person learning outweighed safety concerns.  
"Nothing beats direct interaction between a teacher and a student. Our teachers are wired for  that—that's their gift, that's their specialty, that's what they know best," Pastor Schilf said. "Parents see what the teachers bring to their child in an environment like this and that  translates into 'that teacher cares for my child.' So, if they see that their teacher really cares  about their child and their family, the level of trust really exponentiates." 
Another reason for the spike in enrollment is that, for some families, remote learning is not an  option. Working parents and guardians need a place to bring their kids during the day, and  some say that e-learning often requires as much work from the parents as it requires from the  students. 
"Not all parents like to teach their kids. It's difficult. I was a teacher and I couldn't teach my  own kids. It's a different relationship," said Dr. Mullaney. "They want their kids in school, they want the social interaction, and the parents that are here are not fearful, but they're trusting of  us. They know we've done our homework." 
While it hasn't been a picture-perfect start to the school year, flexibility and the ability to adapt to new situations has been key for Immanuel staff.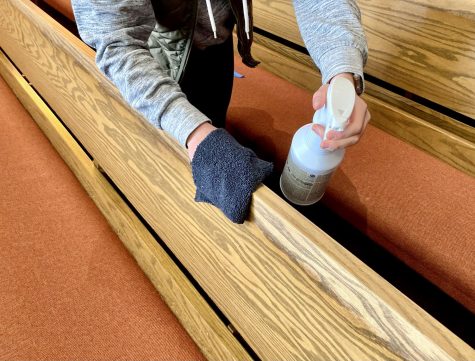 Many usual school procedures will run differently this year, but even then, some things never  change. The quality Christian education offered by Immanuel continues to be one of the major  selling points that draws new families in. In 2019, Immanuel Lutheran Church celebrated it's  150th anniversary, and just this past spring, the school celebrated this milestone as well.  
"What really confirmed that our decision was a good decision was definitely the first day of  school, but it lasted beyond the first week," Pastor Warren Schilf reflects fondly. "In the  morning, kids would line up by their grades to be brought in safely into different entrances; and  the joy on the kids' faces when they saw their friends was amazing, and the teachers immediately  connecting with them—it was like a family reunion all over again. You can see that this is what  the kids needed."