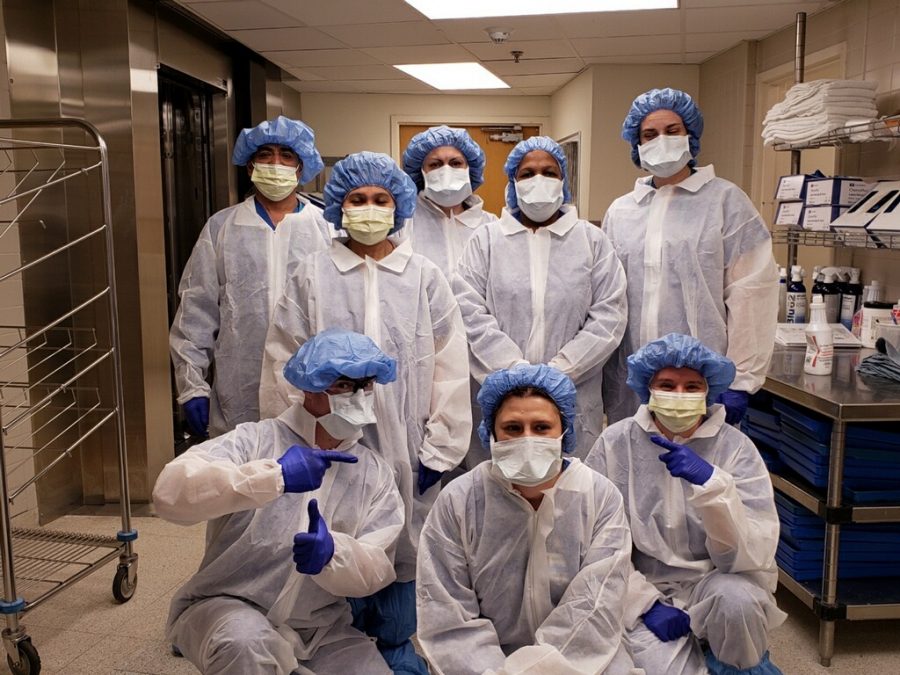 In early March 2020, AMITA Health Alexian Brothers Medical Center received its first COVID-19 patient. That was the first of many they would see. Soon after, the hospital transformed to set up for the crisis that was occurring.
In 2005, Teresa D'Alesio started working for  AMITA Health in Elk Grove Village, Illinois. In all her years of working at the hospital, D'Alesio said she had never experienced anything like this. 
"We never had to lock up gloves, masks, and other PPE before. It is crazy to see this happening right before my eyes,"  D'Alesio said.  
All medical professionals are required to wear personal protective gear when on the job. But now more than ever it is enforced and required so keep yourself and others safe. Although D'Alesio is not working directly with the COVID-19 patients, her job is just as important as ever. 
Since D'Alesio is in the Sterile Processing department, they are responsible for sterilizing and setting up trays with instruments and equipment used in the operating room. This job could be extremely dangerous due to the coronavirus because they are working with used instruments that could have been used on a patient who has COVID-19.  
Extreme measures are being taken to protect the staff when sterilizing instruments used on patients who have COVID-19.  
When going into AMITA Health, all personnel are screened with an infrared thermometer. If anyone has a possible fever, they are required to go home on sick leave and are unable to return until the fever has passed. 
According to AMITA health, "All nonurgent and nonemergency procedures across the AMITA Health system have been deferred until further notice. We continue to ensure that all areas of our facilities are fully sanitized for your protection. We have a rigorous screening process in place and are immediately isolating anyone presenting with possible coronavirus symptoms." 
All medical professionals that have positions that work directly with patients or instruments from COVID-19 patients, were fitted for N95 masks and only have one per person from the hospital. 
"[The fitting] was extremely uncomfortable because you had to put breath into this respirator and it had an awful chemical like smell and taste that seemed to be toxic. I guess it is what we have to do to be safe though," she stated. 
No guests are allowed in patient rooms and tables in the cafeterias are removed. Something that the hospital has administered is a small grocery store inside the cafeteria. They have many fruits and vegetables and other boxed and canned goods for purchase. 
When coming home from work, D'Alesio said she immediately takes off her clothes and washes her hands thoroughly. "I have been using rubbing alcohol and other cleaning supplies like nuts to get the germs off of my work bag, purse and phone."
D'Alesio said that she has been asked countless times to bring home extra masks and gloves for friends and family. But she wants people to understand that since supplies are already so low,  bringing them home would be a disadvantage to those who truly need them on the frontlines.